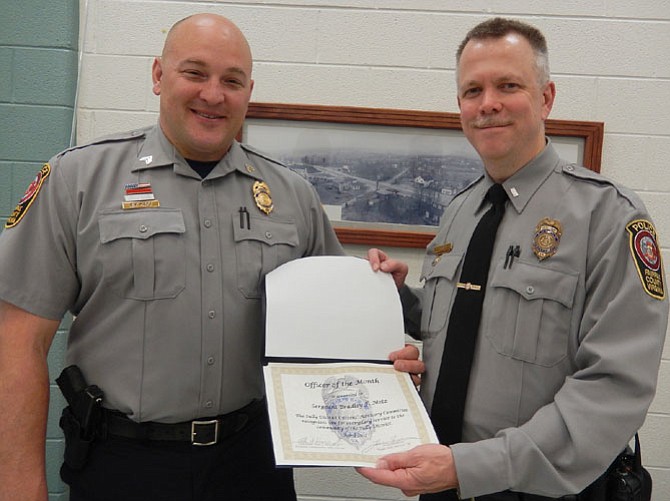 Sgt. Brad Metz was selected as the Officer of the Month for April for the Sully District Police Station. He was honored at the May 10 meeting of the station's Citizens Advisory Committee.
Usually, the recipient of this honor is nominated by a single person — most commonly, his or her supervisor. But Metz was nominated by the station's entire evening shift "A" squad. In the official write-up, Lt. Trafton Parr explained why.
"In December 2016, the second lieutenant for the evening shift "A" squad went on light duty due to an injury," wrote Parr. "But Sgt. Metz rose to the occasion and assumed the many roles and duties that both supervisors fill until the second lieutenant's return to full duty in early April of this year."
During this period, said Parr, Metz had to multitask many issues, including staffing shortages, squad training, employee personal matters, routine Internal Affairs cases at the supervisory level, and citizen complaints — all while responding to a number of high priority, as well as routine, calls.
"Metz has an easygoing personality and demeanor that makes him very approachable," wrote Parr. "His open-door policy reflects his likeable nature and, in turn, motivates his subordinate patrol officers to perform at a higher level. Whenever Metz requests volunteers for an undesirable assignment, there are always squad members willing to step up and assume the task."
Parr said Metz has also been an "excellent role model and mentor" to the officers of the evening shift "A" squad. "He utilizes training videos to better prepare his squad for multiple, high-risk situations," wrote Parr. "He distributes current case law and other pertinent information to prepare his squad mentally for situations that may arise."
Furthermore, continued Parr, "Metz's management style allows senior patrol officers to handle routine issues that normally do not require the involvement of a supervisor. He also assists officers in preparing for advancement and developing in their police careers.
"It is a pleasure having Sgt. Metz serving in the Sully District on the evening shift "A" squad, and he is well-deserving of the recognition as Officer of the Month."