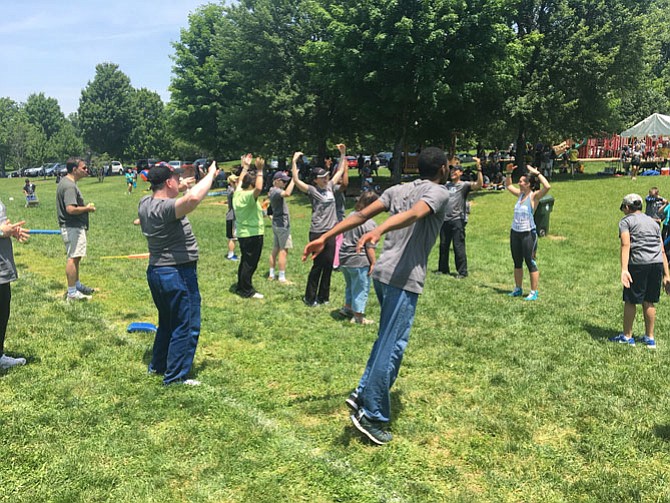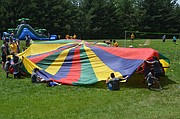 "What politicians and other important leaders need to learn is that we'd be better off if everyone just loved all people. That's the message of KEEN: love everyone." — Dale Dixon
As 22-year-old Dale Dixon sat at the face-painting table at KEEN Greater DC's Annual Sports Festival, he spoke of the inner peace he's found in his nearly-lifelong involvement with KEEN (Kids Enjoy Exercise Now). Celebrating its 25th anniversary this year, KEEN Greater DC provides a variety of free physical fitness and other recreational programs for young people with significant special needs.
As Dixon looked around Potomac's Avenel Park, the location of KEEN's 2017 Sports Festival, the multi-colored peace signs and hearts painted on his arms seemed symbolic of KEEN's mission, to make sure that children with special needs have the outlets they need in order to maximize their quality of life.
"I've been coming to KEEN all my life, and I've never seen people come together the way they are here," Dixon said. "It's amazing. Truthfully, KEEN for me isn't even about the programs. It's about peacefulness that I bring back home with me. Everyone should have the kind of peace and love I get from KEEN and the volunteers. I love all the volunteers."
Dixon is not alone in his praise of KEEN, which at every activity pairs each attendee — all of whom are called KEEN athletes — with a volunteer to guarantee their safety. The organization hosted its Sports Festival on Sunday, June 4, where more than 500 people gathered for socialization, food, beverages, and a variety of outdoor activities — including Dixon's favorite: face-painting.
"Everything about this day is beautiful," Dixon said. "There is too much violence in the world. What politicians and other important leaders need to learn is that we'd be better off if everyone just loved all people. That's the message of KEEN: love everyone."
KEEN offers a variety of programs for 5-year-old children through 25-year-old young adults who struggle with the kinds of disabilities that can otherwise prevent them from enjoying recreational activities. This year's Sports Festival included just a few of these activities; on one side of the park, volunteers led group dances, and, on the other side, two vibrant, multi-colored bounce houses were set up for people to jump around and climb through. In between, casual games of soccer and catch ensued.
"We've done the Sports Festival in the rain and in the heat," said Karen Migdail, KEEN's board secretary and long-time volunteer. "It's always a huge success, but this year has even more energy and excitement than the previous ones I've been to. The weather is amazing. Everyone is enthusiastic and this year is just fantastic."
KEEN's annual Sports Festival is a crucial part of the organization's year because it is the one event that brings everyone together.
"KEEN started out as a very, very small program in Montgomery County," said Migdail, who also runs the adult fitness programs. "All the kids who participated were in one place. We knew everyone — all the kids and all the volunteers. Now, we are growing and diversifying activities so getting everyone together is really important, and reinforces the community we have at KEEN."
Early in 2017, as KEEN launched its 25th anniversary year, board members set forth some major goals for the organization. At the time of the Sports Festival, not even halfway through the year, the organization was already close to completing these initiatives, which perhaps made the 2017 Sports Festival even more of a celebration for those who are typically behind the scenes.
"We've grown in every way, every year," Board Chair Burt Braverman said of KEEN during his nine years of overseeing the non-profit. "We serve more kids with more programs and more sessions, in more locations. This year, to mark our 25th anniversary, we challenged ourselves to start three new programs, in three new locations, one each in D.C., Virginia and Maryland, including one in Baltimore. These launches have been very successful, and are further steps in our goal to have KEEN programs for special needs families throughout the entire Washington-metropolitan area."
The annual Sports Fest is a part of the growth strategy because of the attention it garners among people who had never before heard of KEEN.
"Twenty-five years ago, KEEN started with just five kids in a gym," Braverman said. "Today, KEEN serves 500 young people. Volunteers are essential for KEEN's programs, and, a big, unifying event like the Sports Festival provides a great way to introduce KEEN to new volunteers. We meet new kids here, too, who will become regular KEEN athletes. We invite everyone in the community to participate, and we've even had times where people who just happened to be walking or driving by stop in to see what it's all about, and wind up becoming part of KEEN. It's fabulous, because, we want all kids with special needs to be a part of KEEN."
As KEEN has grown its community of families and volunteers, it has also increased in its offerings. 25 years ago, KEEN held biweekly open-gym time for children with disabilities to get in some casual exercise. The gym full of equipment and volunteers enabled the athletes to incorporate much-needed, regular physical fitness in their lives while their parents and caretakers could pursue some alone time. Today, KEEN has programs to provide an array of activities to its athletes, including Zumba, dance, music, swimming, tennis, and martial arts.
KEEN has also added a program for adults with special needs so that, as Migdail said, "even when the athletes grow up, they can still get a taste of KEEN."
Braverman said that in its strategic planning, the board never loses sight of exactly how valuable KEEN is to families that include someone with special needs.
"We know we need to be constantly working on expansion," he said. "It's important to be accessible to as many families with someone with special needs as possible."
The more KEEN has changed, the more it's stayed the same: Everything is still free-of-charge, and the organization has never rejected anyone, despite the severity of their physical, mental, or emotional limitations.
Migdail said that a significant portion of the KEEN community made an appearance at the 2017 Sports Festival. Among the faces she didn't recognize, she said she hopes many of them will become KEEN volunteers. She knows personally just how remarkable KEEN can be for a volunteer's life.
"I encourage everyone to volunteer," she said. "I guarantee that it will be one of the most rewarding experiences of your life. Twenty-five years ago, just months after the organization started, I was looking for a volunteer opportunity that was limited to weekends. But, I went the first time and I was taken by the concept of KEEN and the people involved. There is no commitment for volunteers. You can volunteer once, or at every event. I don't know anyone who volunteers just once, though. It becomes a part of your life, of your family's life. It certainly has with mine."
For more information on KEEN, including volunteer opportunities, visit the organization online at www.keengreaterdc.org.