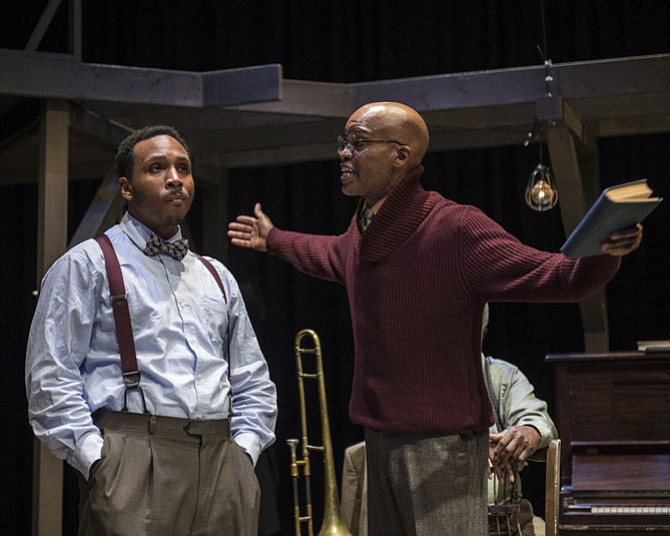 Vienna — With its exceptional, unflinching production of the legendary August Wilson's
Where and When
1st Stage presents "Ma Rainey's Black Bottom" at 1524 Spring Hill Road, Tysons. Performances through June 25, 2017. Thursdays 7:30 p.m., Fridays 8 p.m., Saturday 2 p.m. and 8 p.m., Sundays at 2 p.m. Tickets: Adults $30, Seniors (65+) $27 Students and Military $15. Call 703-854-1856 or visit www.1stStgeTysons... Note: Contains strong language, racial slurs. For mature audiences.
"Ma Rainey's Black Bottom," 1st Stage continues its trail-blazing for Northern Virginia theater audiences. Wilson's "Ma Rainey" was the first of his lauded 10-play cycle about the African-American experience in 20th century America. Wilson went on to become the rare playwright with Pulitzer, Tony and Academy Award recognition.
"Ma Rainey's Black Bottom" is set in 1920's Chicago. The legendary blues singer Ma Rainey is set to cut a new record with four black musicians. Her white manager and the white recording studio executive are always nearby. What transpire is the blistering dramatization about trying to cope with racism and its aftermath. The production flares with interpersonal conflicts, intense accounts of pervasive racism and an inflamed conflict between the outspoken Ma Rainey, a woman who knows what she wants based upon her own experiences, and a younger, disruptor of a trumpeter named Levee who pushes to disrupt the old ways for what he thinks are sharper jazzier ways of music and showier living.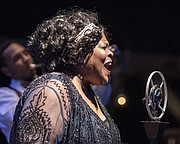 In her directorial debut at 1st Stage, Deidra LaWan Starnes does not have the production either mince Wilson's original dialogue or shy away from its powerful messages that black lives matter.
With casting of uniformly strong actors, Starnes brings together a tight ensemble and sets in motion her solid vision for the production as a volatile mix of incendiary monologues, highly compostable interactions, sharp funny moments, expletive language including racial slurs. There are also moments of poetic beauty. And one of a vigorously delivered, compelling anger at God for and why there is and continues to be crushing discrimination.
The "Ma Rainey" ensemble includes Williams Aiken (Sturdyvant), Tracey Farrar (Dussie Mae), Jason B. McIntosh (Slow Drag), Thomascena Nelson (Ma Rainey), William T. Newman Jr. (Cutler), Tendo Nsubuga (Sylvester), Joe Palka (Irvin), Clayton Pelham, Jr (Levee), Michael Anthony Williams (Toledo) and Joshua Witt (police officer).
There are also marvelous interludes of blues music including several delivered live by Nelson. She is a recording artist as well as a Helen Hayes Award actor.
The appealing time specific set is a multi-story, multi-room affair designed by Kathryn Kawecki with fitting lighting by John D. Alexander and effective sound design by Reid May. Debra Kim Sivigny's costumes are handsome, with looks befitting each character.
"Ma Rainey's Black Bottom" at 1st Stage is a tense, tough and fearless production for mature audiences.