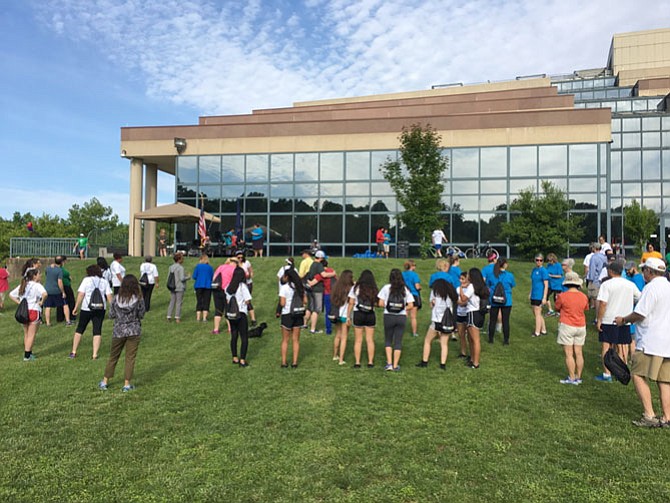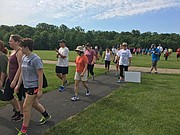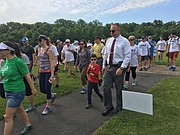 Hundreds gathered Saturday morning on the south lawn of the Fairfax County Government center to participate in the Just Ask Walk/Run for Freedom. Participants either ran two miles or walked one to increase awareness and prevent teen sex trafficking in Northern Virginia.
After a brief warm-up involving Zumba and salsa dancing, three speakers greeted the attendees and talked about why they were here today. Jodi O'Hern, Schools Sector chair for Just Ask and the organizer of the event, said, "We have a problem in this county and in the United States that a lot of people want to put in the closet. A lot of people don't want to talk about this issue," she said. "But the only way we're going to eradicate this issue … is if we start talking about this issue."
Teen sex trafficking has been reported in every public high school in Fairfax County, along with many middle schools and some elementary schools. Most of the people trafficked in Fairfax County don't come from foreign countries, they are county residents.
Many believe that trafficking involves kidnapping and taking a child away from their families, but most victims live at home while they are being trafficked. They are typically trafficked right after school, unbeknownst to their parents.
O'Hern said this is part of the reason they have a hard time getting people to understand the issue.
"People think that it's like the movie 'Taken' but it's not at all," she said. "It's just regular kids in regular circumstances."
Detective Bill Woolf, of the Northern Virginia Human Trafficking Task Force, said that if he has learned one thing in his many years of fighting trafficking, it is that prevention is possible.
"That is our whole goal here, to educate everybody about the realities of trafficking," he said speaking to the crowd after O'Hern. "Prevention does work. And it starts with all of us here talking about the issue."
Deepa Patel, executive director of Trauma and Hope, a counselor for victims of trafficking, discussed how traumatic and damaging the long-term consequences can be. Having worked in the intervention phase of the problem, Patel described how victims have difficulties forming relationships and suffer from things like paranoia and depression, issues which are often left untreated.
"Now we have to start looking at it from the prevention angle. That means talking to others, having those uncomfortable conversations," she said. "Once we can kind of build this bigger community, we can ourselves work together to eradicate this problem."
TRAFFICKERS TEND to prey upon vulnerable children who either have low self-esteem or a difficult home life, and can spend up to 6 to 9 months grooming a victim. Many of them meet victims online on a variety of social media websites, but they also go to public places that are popular with children such as shopping malls and sporting events.
"Traffickers give these kids a false sense of security," O'Hern said. "They make them think that they're their friend, but in the end their number one goal is to exploit these kids."
O'Hern said that parents should be aware of tell-tale signs that their child might be falling victim to trafficking. Children may start to dress differently, alienate themselves from their friends, and also start to receive expensive gifts. Human trafficking is the fastest-growing sector of organized crime and the third largest criminal enterprise in the world, according the the FBI.
More information about how to prevent trafficking and how to get help is available at www.justaskprevention.com.