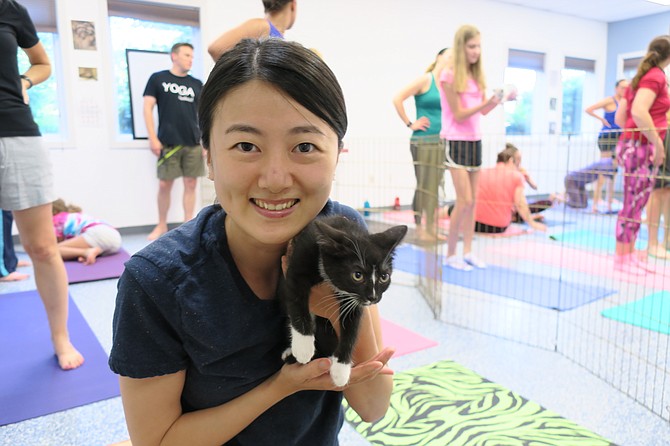 There's nothing like going to a yoga class and having the chance to connect with your breath, stretch your body, challenge your muscles and tickle a kitten.
The Animal Welfare League of Arlington (AWLA) is currently offering "kitten yoga" classes. During these classes, participants do downward dogs and tree poses while kittens wander among them. They may even find a cat nuzzling up against them while in cat pose.
"Kitten yoga is about 80 percent kittens and 20 percent yoga," said Beth Wolfe, who teaches the classes. Participants frequently take breaks from the poses to interact with a nearby kitten and snap some pictures with their phones.
The classes are a way to promote adoptions but also allow participants a chance to relax and have fun with a new furry friend.
"A lot of people can't have a cat at home," said Chelsea Lindsey, the communications specialist at AWLA. "Kitten yoga gives them a chance to get some cat therapy."
Lindsey added that the classes help raise funds for the shelter and provide benefits for the kittens regardless of whether a kitten is adopted as a direct result.
"It helps the kittens get socialized and get used to being exposed to new environments," Lindsey said.
Kitten yoga started last fall when Wolfe approached AWLA about hosting the classes. According to Lindsey, the shelter was enthusiastic about the idea because they are always looking for new ways to reach out to the community.
"For a lot of people, an animal shelter has the perception of being a sad, scary place," Lindsey said. "Events like kitten yoga can help dispel those ideas and also draw people together in their shared passion for animals."
Participants are welcome to come and enjoy the kitten yoga experience regardless of whether they have any intention of adopting.
"I love kittens and I love yoga," said Gina Ysunza, who attended a recent session but wasn't looking bring a new pet into her home. "Kittens can teach you how to relax and go with the flow."
Meredith Black, who attended the same session, is hoping that kitten yoga will help her find her feline soulmate.
"Kitten yoga offers an interesting way to meet cats," Black said. She added that she's looking to find a "super cuddly" new pet.
Kitten yoga is for people of all abilities and no experience with yoga is necessary.
"People come to yoga thinking it's all about postures and being physical," Wolfe said. "We really try to cultivate is joy, wonder, and gratitude, even if you're not focused on the postures."
Wolfe specializes in trauma informed yoga and doing yoga events that incorporate unique elements and environments. For instance, she teaches classes alongside pygmy goats and alpacas at a farm in Nokesville, Va. and leads regular classes within the Hive installation at the Building Museum.
"It's something people don't normally do," Wolfe said. "There's a lot of laughter and a lot of silliness. No matter what's going on in the world, for that one hour you are communing with people and animals and experiencing joy."
While Wolfe is glad that people are coming out to enjoy the animals, she also hopes that these experiences will encourage some participants become more involved with a regular yoga practice.
"I know I'm biased, but I think yoga is the most wonderful thing you can do for yourself," Wolfe said.
AWLA plans to continue offering the kitten yoga classes as long as they have plenty of kittens in need of homes.
"The warmer it stays through the autumn, the longer we will have kittens coming into the shelter," Lindsey said.
Kitten yoga classes are limited to 30 participants and fill up quickly. Visit Wolfe's website at bethawolfe.com under "unique yoga experiences" to register for upcoming kitten yoga sessions and to learn more about her other offerings.