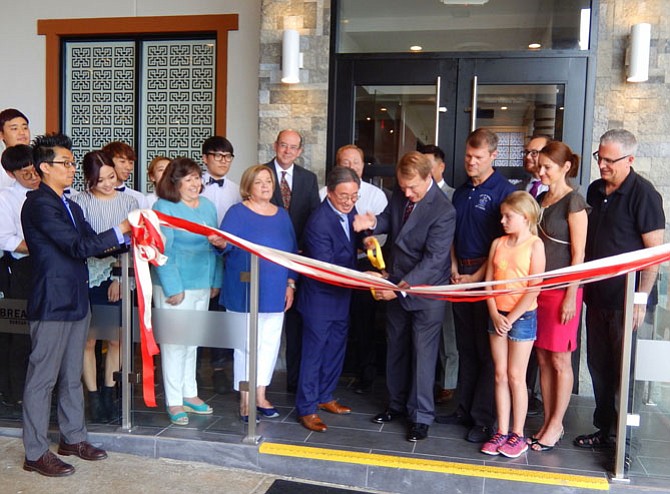 "This is precisely the kind of business the City of Fairfax intends to attract to strengthen our economic development." — Fairfax Mayor David Meyer
Inside Fair City Mall, across from the movie theater, is a new restaurant called Breakers Korean Grill & Barbecue. And according to its CEO, Bobby Kim, its mission is to "break the mold" by providing traditional food while using the most advanced technology to create "a sense of luxury and hospitality."
It held a soft opening in May, with a grand opening and ribbon-cutting in June. The Fairfax restaurant is its third in the U.S. Breakers also has sites in Atlanta and Dallas and will open in Los Angeles in 2019. "We're planning to have seven or eight locations in the Washington Metropolitan area, but this one is the first," said Kim. "According to Tabelog U.S. – which ranks U.S. restaurants – we are the number-one Korean barbecue in the country."
So why Fairfax? "I used to live in Fairfax County and knew this area and its economics," he explained. "Korean barbecue introduces people to another variety of ethnic food. About 40 percent of our customers are Asian; 60 percent are other cultures and ethnicities."
Pleased to welcome this restaurant here, City Economic Development Director Chris Bruno, said, "Breakers certainly advances the notion that Fairfax is continuing to develop into a regional dining destination with a focus on quality and presentation. We are thrilled that they have selected Fairfax as their Metropolitan Washington flagship location."
HOURS are Monday-Thursday, 11:30 a.m.-2:30 p.m. and 5-11:30 p.m.; Friday, 11:30 a.m.-2:30 p.m. and 5 p.m.-midnight; Saturday, 11:30 a.m.-midnight; and Sunday, 11:30 a.m.-11 p.m. Phone 703-343-6688.
"For the Korean barbecue, we precook the meat about 15 percent in the kitchen, and the customers finish grilling it to their preferences at their table," said Kim. "Then they share it with the people they're dining with – it's a lot of fun. We also serve a lot of free, side dishes with it – salad, soup, Kimchi, rice, bean sprouts, potato salad, cucumber Kimchi, Korean pickles and a radish wrap, plus additional specialties every day."
Kimchi is a mixture of 14 or 15 vegetables – including red and green bell peppers, garlic and onions – that's aged three days. And when grilling the meat, diners may mix and match spicy, ginger, teriyaki and soybean sauces.
"We also have a menu with other types of items, such as marinated short ribs, jumbo prawns and scallions, Chilean sea bass, teriyaki pork or chicken and tofu steak," said Kim. "Prices range from $20-$40. And our prime black angus beef short ribs beat 44 other restaurants in a competition in Atlanta."
There's also an all-you-can-eat option for $24.99, featuring nine different main dishes plus all the side dishes. Offered, as well, is a set menu for two to three or four to five people. When people come to Breakers for the first time, said Kim, "A lot of them order all-you-can-eat so they can sample things. Then they come back and order their favorites. Most want to grill their own food, though, or choose their favorite entrée."
SO FAR, he said, the Fairfax restaurant is doing almost twice as much business as Breakers's other locations did when they first opened. This one is 12,000 square feet, has six private rooms, one semi-private for 40 people and a banquet room for 120. "The main dining room seats about 300," said Kim. "And we can handle 450 people here at once for big parties and wedding receptions."
"Breakers is a superior example of a high-end restaurant with incredible attention to detail," said Fairfax Mayor David Meyer. "This applies to its construction and, most especially, the quality of the food and training of the staff. This is precisely the kind of business the City of Fairfax intends to attract to strengthen our economic development.
"This restaurant will be a destination restaurant, not only for City and Northern Virginia residents, but also for the greater Washington area," he continued. I am very pleased to have this business in our City."