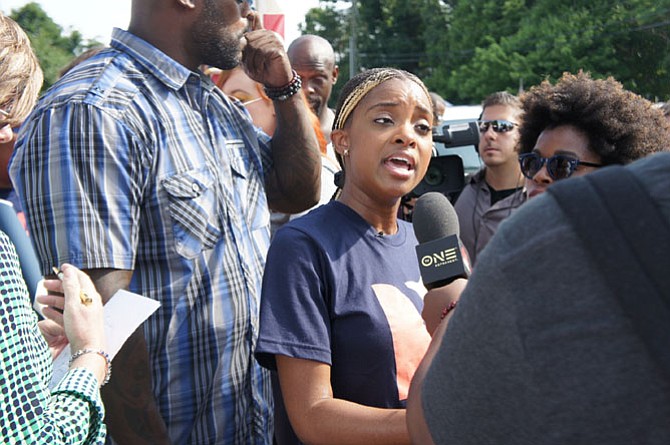 The organizers were out-of-towners and many of those in attendance came from miles away. Boston. Miami. New York City. Richmond. Newtown, Conn. But in the mix at the "NRA2DOJ" rally and march were dozens of people from the greater Washington region, and from Fairfax County.
Cecile Heatley of Falls Church has been joining a faithful group of gun regulation reform advocates standing vigil outside of the National Rifle Association's (NRA) Fairfax headquarters one day every month since the tragedy at Sandy Hook Elementary School in December of 2012. "I always knew gun laws were a problem, but until Newtown, I just didn't see them as my problem." This morning Heatley said she had never seen a crowd like the one that was gathered all around her. "Maybe some will come back and join us next month."
Instead of the usual handful of protesters who quietly congregate outside their offices each month, on Friday, July 14, the NRA was the target of hundreds of protesters as they gathered to first rally at the organization's homebase on Waples Mill Road and then proceed to march some 18 miles to the Department of Justice in Washington, D.C. where another rally was scheduled to take place on Saturday.
Erica Brouillette of Fairfax was also inspired to participate in the protest efforts by the deaths of the Sandy Hook children and their teachers, as well as the many gun-related deaths that have taken place since then. "I guess we just have to do something to make people more aware."
Brouillette seemed a bit daunted by the prospect of a march in the sweltering humid weather and the threat of afternoon thunderstorms, but she said she was going to "give it a try." She looked hopeful holding her "We Can End Gun Violence" sign.
The Sandy Hook victims were much remembered during the day, with a sobering banner, featuring the life-sized silhouettes of all 26 lives lost at the school, with brief epitaphs of each, stretched across a stone wall opposite the NRA building, but there were signs and photographs memorializing numerous victims of gun violence, including the high-profile cases of Trayvon Martin and Philando Castile and the victims of the Pulse nightclub shootings along with photos and memories of loved ones lost that perhaps no one in the crowd had heard of before.
THE NRA is not the cause of these tragedies, acknowledged attendees like Karen Randall, and Chris and Ellen McGlone of Centerville, but "they seem to work to instil fear and pursue their own agenda," said Chris McGlone, "instead of using reason and common sense. And I'm sorry, but I see no reason for people to need assault weapons."
That was a sentiment that Diana Smith of Reston, a member of the Herndon-Reston Indivisible group, agreed with 100 percent as did the vast majority of those assembled, although there were some who dissented.
A small group of counter-protesters from Annapolis, Md., were there, as well, continuously wandering among the crowd wearing prominently displayed firearms and carrying their own signs, like the one which read "Free Speech by Any Means Necessary."
Fairfax resident Saundra Robinson paid little attention to the group. "I am here in Love, nothing but Love," said Robinson. "The Bible is our weapon. I think the NRA needs to be more reasonable and help find solutions."
Del. Ken Plum (D-36), who lives in Reston, has attended many of the monthly NRA vigils and is a staunch advocate for "more common sense gun laws." As he told the crowd, "year after year" he introduces legislation, "but we won't quit until we succeed."
The organizers of the Women's March on Washington, which saw an estimated one million people swarm the streets of the nation's capital on the day after the inauguration of Donald Trump, were behind this action, as well.
The larger issues driving today's protest are calls for more gun legislations, a ban on assault-type weapons, an end to gun violence, and what some protesters called systemic racism as the reason behind several deaths, particularly of minority males, at the hands of law enforcement personnel. "No one is safe unless everyone is safe" T-shirts, banners, and buttons were everywhere.
The catalyst for this two-day rally, march, and vigil stems from two recent events, the first being the acquittal of Minneapolis police officer Jeronimo Yanez in the shooting death of Philando Castile as the African-American man sat in his car with his fiancé and 4-year-old daughter. Pulled over by Yanez, Castile told the officers that he was legally carrying a firearm. Castile was shot several times when he reached to get his driver's licence as requested.
"Where was the support from the NRA for Philando as a legally armed citizen?" Tamika Mallory, a founder of the Women's March, asked as she addressed the crowd outside the NRA building.
THE SECOND MOTIVATING FACTOR that led to the civil action was the release of an NRA video on Facebook that portrayed protestors as people who "smash windows, bully and terrorize law-abiding citizens." Radio host Dana Loesch, who narrates the video, goes on to say that the only answer is for the police to then "do their jobs" and for those "law-abiders" to "fight back with the clenched fist of truth."
Mallory and many others viewed the ad as inflammatory, saying not only was it completely incorrect in its portrayal of the many Americans who openly oppose the President and the Republican agenda, but that it endorses the use of violence by NRA members and Trump supporters against those with whom they disagree.
Mallory wrote an open letter to the NRA asking that the video be removed and that an apology be issued. The NRA declined, and instead produced another video, this time using NRATV host Grant Stinchfield as spokesperson, who called out Mallory personally among others, and said "no way will we ever apologize for telling the truth," and again categorized the protestors as lawless looters and paid instigators.
Mallory and company prepared their own response to the new video — the "Women's March from the NRA to the DOJ," and brought along a few hundred friends to be sure their response was heard.
"We know that we are not safe," she wrote in her letter and she called out to the rallying crowd. "But we will not be intimidated into silence."
Organizers and attendees asked that a special "thank you" be sent out to the Fairfax County Police Department for their professional and friendly assistance and escort, and to the Fairfax County EMS staff who came to the aide of several demonstrators who were overcome by heat.