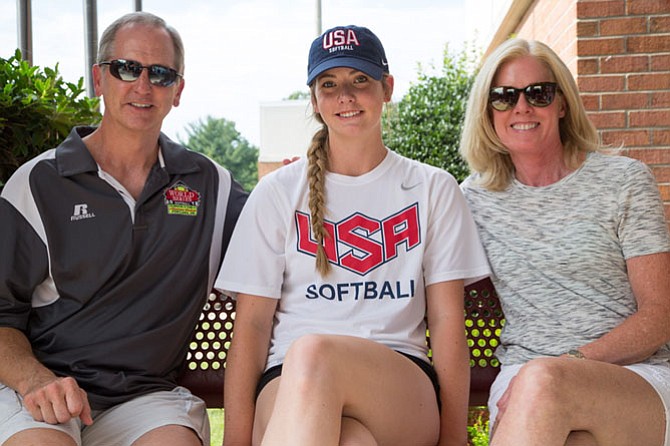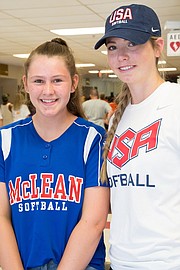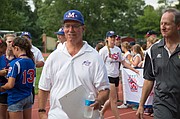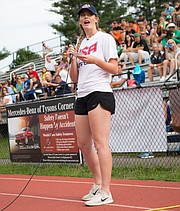 Little League Virginia State Tournament for Softball
Thursday, July 14 at McLean High School, the football field and track housed a parade of little league softball teams from all regions of Virginia.
Kathryn Sandercock, who now plays for Bishop O'Connell High School used to pitch for the McLean Majors Softball Allstars and took them to a world series where they placed second. She spoke at the opening ceremonies, encouraging the mostly seventh and eighth grade girls to keep working hard at their goals.
Gerry Megas, the manager for McLean's own McLean Majors Softball Allstars team said, "If you win, you become Virginia."
The teams from each of Virginia's districts came out to show their best little league game of softball. This year there are 12 teams competing.
McLean's team is district 4. Coaches for the McLean Allstars are Bill McNabb and Jerry Nelson. Here is their line-up: Campbell Al-Khafaji, Stephanie Beard, Yanna Bravewolf, Lily Brumbaugh, Eva Butler, Maria-Grazia Favro, Ava Fowler, Kira Lentz, Nicole Mallus, Torrie McNabb, Lindcy Nelson, Alex Schwartz, Maddie White, and Mariana Williams.
Kathryn Sandercock walks forward at the McLean football field at McLean High School to give a speech to her old little league team, the McLean Majors Softball Allstars, about playing for the US Junior Women's National Team this summer.
Sandercock, 16, a rising senior at Bishop O'Connell High School, is a product of coaches, parents, and a youth little league softball program in McLean that has sent three teams to the world series and won it once.
The summer of 2013 Sandercock was 12 years old. That year the McLean Allstars under manager Gerry Megas won the Great Falls district, the Virginian State Championships, the Southeast regional tournament in Georgia, and went on to place second in the Little League World Series in Portland, Ore.
Gerry Megas still manages the McLean Majors Softball Allstars. Last weekend was the Virginia state tournament and his team, which Kathryn used to pitch for, played Saturday and Sunday in McLean.
"I am extremely proud of Kathryn; she was the main pitcher for our team at age 12. She started good and got better every year. She works hard. I asked her to talk to the girls and we were fortunate to get her," said Megas.
Kathryn started playing softball when she was 8 years old. She and her sister used to play in the driveway with their dad. "I had good hand-eye coordination and it all started with little league," she said. "I always had a dream to play Division One softball but it progressed into who I am and I love it."
Her parents have been intensely supportive of her softball playing. "I wouldn't be where I am without them. One time my dad set up a charter jet to get me and two teammates to the Little League World Series in Georgia on time," said Sandercock.
Colin Sandercock, attorney by day and youth softball coach for much of Kathryn's career said, "I grew up playing sports, my dad was in the pro-baseball system for the Boston Red Sox and then World War II happened."
Being raised in an athletic family has worked to Sandercock's advantage, but according to her father her success is due to her own hard work. "The reason we have supported her is that we recognized the ability and the desire to play softball," he said.
Sandercock has verbally committed to playing at James Madison University as their 2018 pitcher. She continues to work with a pitching coach in Richmond, Rita Lynn-Gilman.
This summer in Oklahoma, Sandercock has been playing for the Junior Women's National team. "It's basically the junior Olympics," she said. But Kathryn's ultimate goal is to play on the US Olympic softball team.
She also coaches other girls in her own backyard on how to pitch in her free time. "Gerry sends the little league pitchers over and I help them with their technique," she said. "In college I really want to study coaching or psychology," said Sandercock.