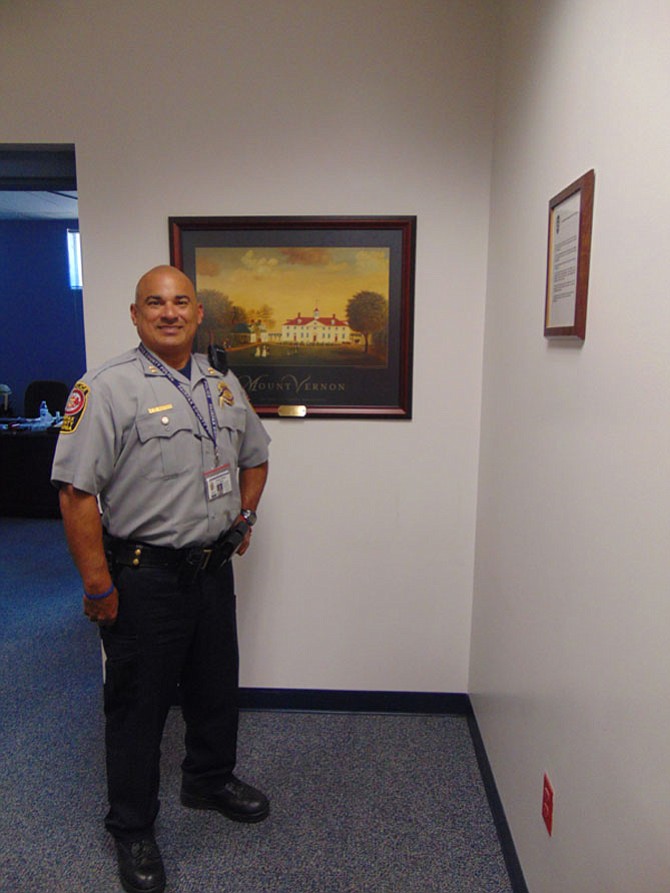 Captain Anthony D. Matos was installed as commander of the Mount Vernon Police District Station on June 10.
Matos, who also speaks Spanish, has been with the Fairfax County Police Department for 22 years, including as patrol officer at the Franconia District Station and as patrol supervisor at the Mount Vernon station. In addition, and demonstrating a broad range of experiences that prepared him for his new position, he worked in the following areas: Detective Squad in the major crimes Bureau; Youth Services Division as a school resources officer; and as lieutenant at the Organized Crime and Narcotics Division, among other assignments. Born in the District of Columbia, Matos is a 25-year resident of Fairfax County. He grew up in Woodbridge and graduated from James Madison University.
In a recent interview following his installation as captain of the Mount Vernon District Station, he answered the following questions:
Q. What are your top priorities?
A. "To begin with, I will be working to maintain the public's trust. A sound relationship with the community and working to bring the community together with the Police Department is a critically important first step in being an effective Police Department. That will be my initial overriding concern. In recent years I have been working as a police consultant for the International Association of the Chiefs of Police (IACP) as a leadership consultant and promoting and teaching best practices as a police leadership trainer. I emphasize that a police officer's top priority is to emphasize the importance of promoting good community relationships and public accountability." Matos referred to an iconic police officer with a long history of being viewed as a role model of what an effective police officer should be and that is August Vollmer, a historically highly regarded police officer who worked in Berkeley, Calif. "Chief Vollmer believed in public outreach, public accountability, and the importance of maintaining close community-police relationships. He is widely regarded as the first police officer to develop what is now the modern version of effective policing."
Q. While it's early in your tenure, having only recently been installed as captain of the Police Station, what do you envision as an area of emphasis here in Mount Vernon?
A. "I am confident that a robust crime prevention and neighborhood watch program will be part of my early efforts that I am confident will yield positive results."
Q. What would he like to say as an introduction to the community?
"I am humbled and honored to be assigned as captain of the Mount Vernon District Police Station. I understand the cooperation that is necessary to continue keeping our diverse community safe. I am confident that the men and women of our Mount Vernon District Station … will continue to stand next to our citizens to prevent and fight crime, keep all persons safe, and keep pace with the incredible urbanization within our district."