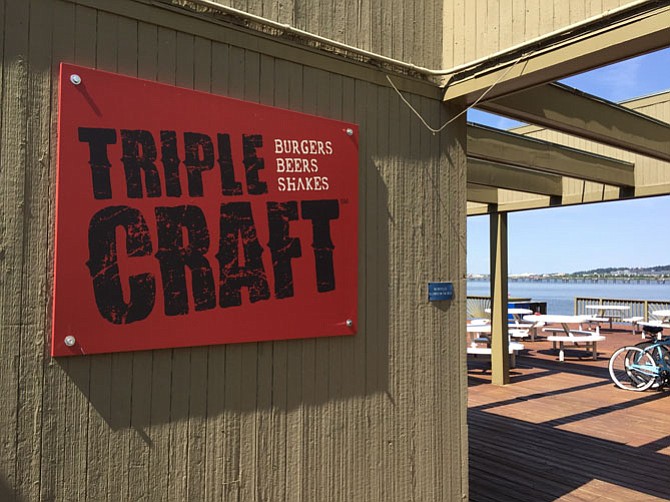 If You Go
Triple Craft, 1 Marina Drive
Hours: 11 a.m.-9 p.m. daily
Chef's Choice: "The farmhouse burger, which has a fried egg on it, cheddar cheese, our really good hardwood smoked bacon with nice thick cut bacon," says Chef Edward Verber.
Drive down the George Washington Memorial Parkway or bike along the Mount Vernon Trail near Daingerfield Island and take a long look down Marina Drive. What recently was an empty cavernous restaurant — the remnants of the recently departed Indigo Landing — has been transformed into Triple Craft, a warm, spacious, low-key space selling all manner of comfort food perfect for a day on the water: Burgers, shakes, fries, and the like are on the docket, and the outdoor views beckon.
At two months old, Triple Craft is finding its footing as the spring and summer months proceed, says Chef Edward Verber.
After Indigo Landing closed, "we wanted to upgrade the preexisting burger shack," Verber said. "We wanted to make sure there was something nice here that went well with the water theme — you're out on the water, it's nice and sunny; you have a good burger, some good beer, and it just goes together very well."
While there are some salads and other light fare on the menu, Triple Craft's true purpose hews to the meaning behind its name: A triple threat of burgers, beers, and shakes, all handcrafted.
"We looked at a lot of different burger mixes to come up with the right recipe and the right roll," said Chef Sean Andrae. "… A good burger has to have a good roll, and the meat has to be really good. We hand-make everything in the back with fresh ground beef."
While Triple Craft doesn't make its own bread, the chefs fanned out across the region to find a suitable roll for its burgers. They landed on salt-and-pepper poppyseed and sesame-seed buns that are sturdy and hold up well against the meat of the burger.
"You want something that's not going to fall apart when you're eating it," Verber said.
While customers can create whatever burger experience they like — using beef, turkey, or veggie patties as the base — the Triple Craft team has created a few specials to boost the imagination a bit. One of the top sellers: The Craft Burger, Verber says.
It has "American cheese, it's got onion rings on it, it's got our Triple Craft sauce, which is horseradish and mustard remoulade, so it's a little spicy — it's good. It goes really well with beef; it's great," he said.
And whatever you do, opt for the bacon jam, Verber says.
"It doesn't matter what burger it is, get some of that on there," he said. "Bacon jam is bacon cooked down with caramelized onions; it's got coffee and Worcestershire sauce, brown sugar, and it's all cooked down. … It could not be better for a hamburger."
Along with the main course, save some room for dessert: The shakes, which are also customizable from more classic varieties to the now-popular "Freakshakes," from non-alcoholic to spiked, are proving to move quickly in the summer heat. Freakshakes — milkshakes garnished with an excess of toppings, ranging from cakes to cookies to all manner of sweet treats — found a foothold in Australia, then moved stateside to New York City, Verber said.
"We saw this and were like, 'There's nothing like that in D.C. right now,'" he said. "There's nobody that's doing these big milkshakes, and we wanted to bring something different to the area too that would bring people out, give us something fun to do. And so far, people love them — the more people that see them, the more we sell them."
Now that Triple Craft has gotten a foothold in the area, the restaurant will be testing the waters for some special events as the weeks go by. On the calendar in the coming months: Thirsty Thursdays (featuring craft beers on tap), participation in D.C. Burger Week, and events centering on specific holidays, such as the recently celebrated July 4.
Whenever you come, come comfortable, Andrae said.
"We want customers to be able to come in and feel welcome whether they're wearing biker shorts or just hanging out over by the sailing school," Andrae said.
Hope Nelson owns and operates the Kitchen Recessionista blog, located at www.kitchenrecessionista.com. Email her any time at hope@kitchenrecessionista.com.