Springfield — The Specs of New York sunglasses boutique in the Springfield Town Center has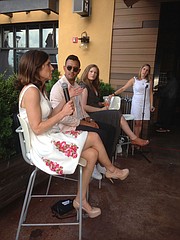 an upscale selection that are far from the sunglass rack at the corner drug store. They are just one of the new stores in the town center that are part of a new trend to corner the fashion industry in the Springfield part of Fairfax County, and capitalize on a fashion sense that is becoming a trend in the metro area.
Shri Jana at Specs noted the type of clientele they are catering to.
"Trying to cover all of the spectrum of the customers up to $4,000 pair of glasses," he said, "very high end stuff." Their town center location is one of four Specs in the metro area, but they still are part of the destination shopping equation that is taking shape in Springfield Town Center.
TOP SHOP, another New York City-based store, is looking to deliver upscale shopping experiences as well. "Our customers are looking for something different," Zoe Gibney, assistant manager, said. A "first-to-market retailer," will create a buzz amongst fashionistas in this area spurring a destination shopping trip, Gibney added. "Customers spend quite a bit because they want to make a day of it," she said.
At Artistic Aveda, it was a little more about Zen than destination shopping. As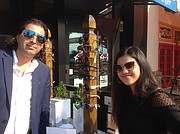 Emily Villalva dabbed on a cream, spritzed the air with a Zen-like scent, and talked about their spa resort in Antigua, there was a sense of the sun salutations of yoga in the air. "This helps to balance your chakras," she said.
Specs, Top Shop, Artistic Aveda and Sephora were all part of the town center's Summer Soiree on June 29 at the Zinburger restaurant.
Gone are the days when the town center was just Springfield Mall, and the roster of stores included Montgomery Ward, Korvettes, Orange Bowl Pizza and Farrells Ice Cream Parlor. The locals watched the construction drag on for years, but the grand entrance, the food availability and variety of fashions seem to be working.
"We are thrilled with the performance of the property since its reopening, but are certain we can continue to improve it as well. The mall is over 90 percent occupied, so there's room to grow with a nice, stable base," said Kimberly Baldy, the marketing director. "Sales are over $500 per square foot which is a great, high-quality watermark. We have a great mix of high quality tenants, mixed with high-performing destination dining, luxury off-price and lifestyle offerings – diversity in offerings is key in today's retail environments," she added, via email.
FOOD, FASHIONS and a picture booth were part of the summer soiree, and a panel of fashion experts who reinforced the notion that the Washington, D.C. area is expanding past the suit and tie mentality. "It's a look good, feel good mentality," said Diego Gonzalez-Zuniga, Men's Fashion & Lifestyle Influencer, and creator of "Diego Downtown," a men's fashion and lifestyle blog based in Washington, D.C. He was on the fashion panel with Meaghan Mooney, a Lifestyle Correspondent and host of "Great Day Washington," on WUSA9 and Lauren Staehle, a fashion writer for DC Magazine.
Baldy posed a few questions, starting with the state of fashion in the metro area.
"You see a lot more creative businesses in D.C., it's not just politics and business anymore," said Staehle. Mooney, who likes the high top sneakers look and feel, "still sees a lot of conservativeness," she said. All agreed that accessories are big now. Bold shoes, corkscrew hair fasteners and one-piece bathing suits are all "in."
"Bold shoes say a lot about who they are," said Gonzalez-Zuniga, "the people that stand out are the people that aren't afraid to take risks."
Baldy did mention their open attitude towards modernization.
"As we look further into the future, we'll look to capitalize on the stellar location by adding density and other uses to the site, completing the transformation into a town center in its truest sense," she said.