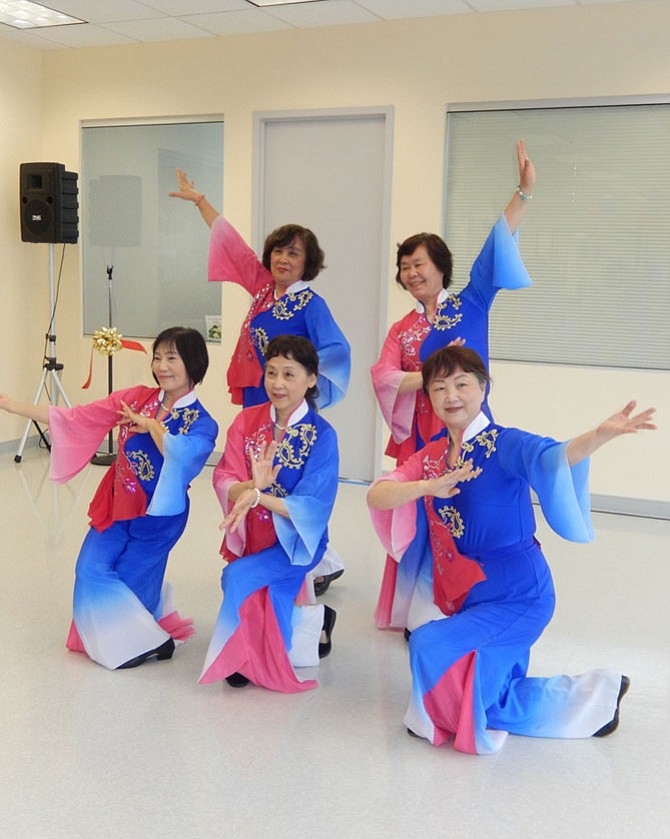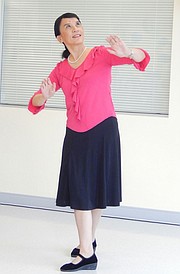 For years, the Sully Senior Center was housed in the former location of Centreville Presbyterian Church, at the I-66/Route 28 intersection. But with that site about to become part of the I-66 outside the Beltway project, the center needed a new home.
It's now relocated to 14426 Albemarle Point Place in Chantilly and is open Monday-Friday, 9 a.m.-4 p.m. Under the auspices of the Fairfax County Neighborhood and Community Services (NCS), it recently held its grand opening and ribbon-cutting ceremony.
"Years ago, society somewhat stigmatized 'senior centers' and equated these types of facilities with a slower pace and lots of Bingo," said NCS Director Chris Leonard. "But what's represented here and in our senior centers across the county is the 21st century."
Stressing that today's older adults are more active than ever, he told those attending the ceremony, "You are energized, enthusiastic participants in the community. You have varied talents, skills and interests that add diversity and vibrancy to the communities in which you live."
Leonard said the senior centers "reflect these realities with enhanced program opportunities," including exercise and fitness offerings, a variety of classes to learn new skills or continue developing existing talents, plus trips and cultural experiences. For example, members can learn things such as line dancing, technology, yoga and strength training, participate in discussion and special-interest groups and can visit museums, go shopping and attend plays together.
"Today's senior centers are dynamic locations where older adults can literally spring into a new phase in their life with increased activity, engagement, friendships and memorable experiences," said Leonard. "This is one reason why our senior centers function as a network. When you get membership to one center, you have access to locations and activities hosted in 14 locations all across the county."
As a result, he said, "It further enhances your access to activities and programs that meet your needs and interests. Our staff here at the Sully Senior Center is ready and eager to work with you to provide engaging activities and programs that will broaden your horizons and provide you with fulfilling and memorable experiences to cherish. We're so fortunate to have a government in Fairfax County that believes in having a vibrant, active and supportive community for our seniors."
Leonard then introduced Supervisor Kathy Smith (D-Sully), who he called "a champion for older adults in the community." Noting that this new site is just temporary, she said the county would eventually seek community feedback to hopefully open Sully's permanent senior center, three or four years from now.
Meanwhile, Smith was delighted with the center in Chantilly. "It's really a happy place here, with so much light and so many smiling people," she said. "Today's event is a celebration of new and increased possibilities."
"The Sully Senior Center has truly come alive," she continued. "A few months ago, this was an office building." She then thanked the center's staff and Fairfax County "for making this the place to be for people 50 and older." Afterward came the ribbon-cutting, followed by singing and dancing by the senior center's ballroom dancers.
Senior Clara Angel called the new facility "very nice. And it's real good help for a lot of people who are at home and have nothing to do and don't drive. This is nice of the county to do." She went to the center for the first time, about a year ago, with a friend.
"I like it because I'm retired and on my own now and I like to be busy," said Angel. "So I come here and go to the gym; I like to run and also do Jazzercise. This new place is beautiful, and there's room for everything now."
Another member, Glenn Haman, of Centreville's Country Club Manor community, was married nearly 40 years, but is now a widower. "I'm in mourning and still miss my wife very much," he said. "But after she died recently, I started coming to this center. I went to it when it was in Centreville."
An active person, he wanted to exercise, so he joined the Jazzercise and Tai Chi classes. He also does line dancing and participates in the center's ballroom-dancing group. "My mom won trophies for ballroom dancing, so I figured it's in my genes," said Haman.
"When I came to this center, I had such a good impression — it's beautiful and all the staff are happy and helpful," he added. "I saw the joy here. I saw all these elderly people doing things and thought, 'This is a wonderful program for seniors.' It's something upbeat and valuable in their lives."
Click here to see the county's Grand Opening video.
It costs $48/year to become a senior-center member, but waivers are offered for people of certain income levels. For more information about the centers, go to www.fairfaxcounty.gov/ncs/sully or call 703-322-4475, TTY 711.