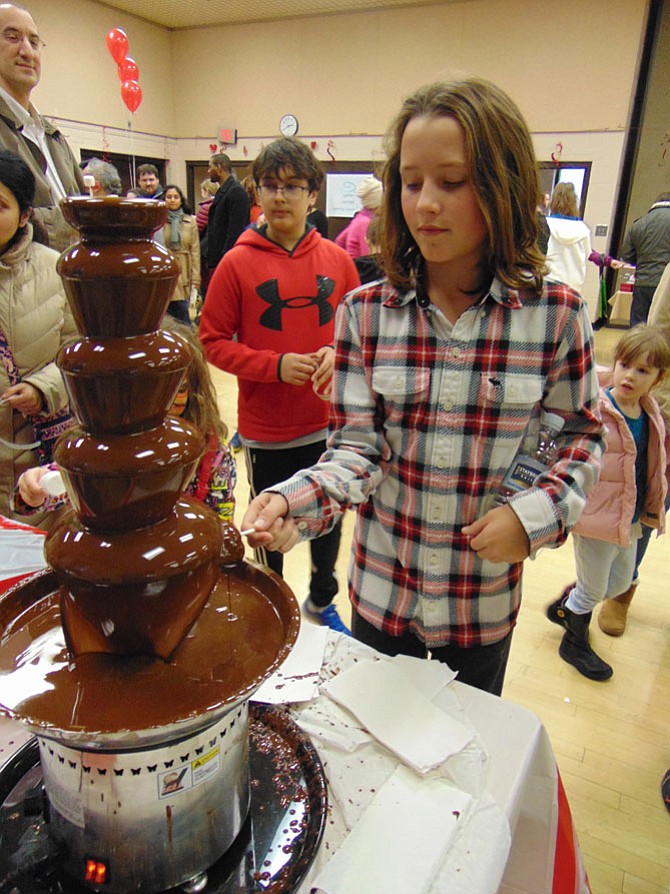 A few thousand people attended the Sixth Annual Chocolate Festival on Sunday, Jan. 29, 2017, which was sponsored by the Rotary Club of McLean at the McLean Community Center. The rotary club fundraiser earned about $10,000 and had about 20 vendors selling chocolate -- from Cameron's Chocolates to Fluffy Thoughts to Sweetbites Cafe.
American Heritage Chocolate, from the Mars Company of McLean, gave a demonstration and slide presentation on the history of chocolate, which came to Colonial America in 1670, and was formerly drank as a beverage, according to Dave Borghesani, chocolate history research manager for Mars.
In addition to the booths, there was a children's activity room manned by students from the McLean High Interact Club with face painting and coloring as well as musical performances. The rotary club also had a raffle table with prizes as well.
"The Rotary Club of McLean is delighted to sponsor this annual event which provides a chance for the McLean community to enjoy wonderful chocolates, take advantage of children's activities and generally have a good time. All of the money we raise is donated to local and international charities," said Michael Arietti, president of the McLean Rotary Club, which has 55 members, all volunteers.
What the Rotarians do locally is provide scholarships to students at McLean High, and help Timber Lane Elementary School by providing books and reading to the students. They also support the Falls Church McLean Children's Center and Langley Residential Support Services, among other things.