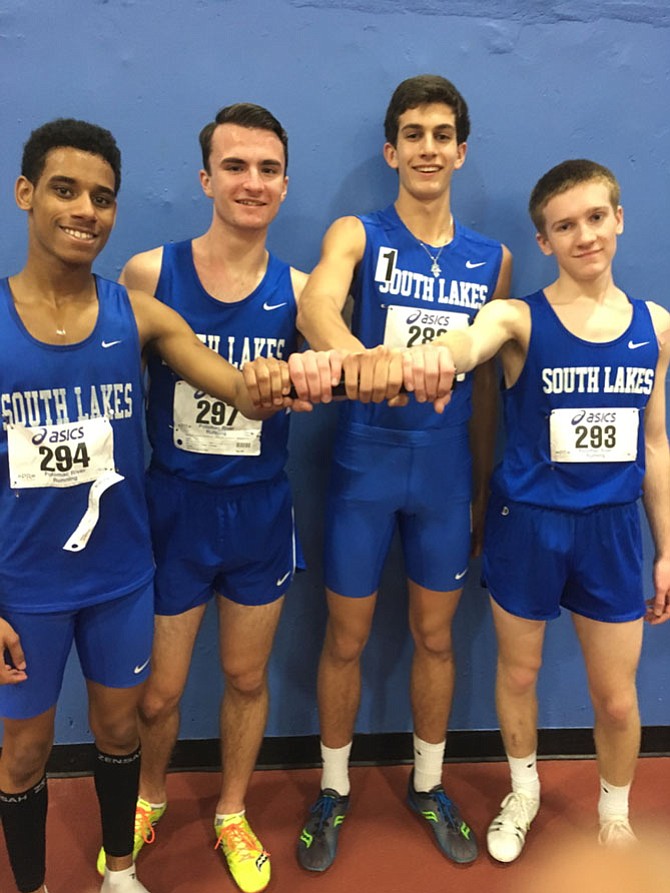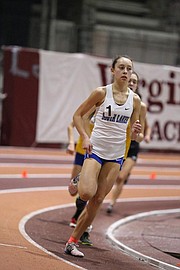 Senior Devyn Jones and junior Olivia Beckner highlighted record-breaking performance for the South Lakes High School indoor track and field team at Day 1 of the VHSL 6A Conference 6 Championship Thursday, Jan. 19 at the Prince George's Sports and Learning Complex in Landover, Md.
Jones won the 55 meter hurdles in 8.62, breaking the Liberty Conference record of 8.65 set by SLHS alumn Aya Adbelhalim in 2012. Senior Abby Wickman, who is doing the hurdles for the first time this year, finished fifth (9.86). The hurdles capped a busy evening for Jones, who finished second in the long jump (16-06.50) and sixth in the high jump (4-06.00). The top six finishers in each event advance to the VHSL Northern Region 6A meet next month.
Beckner captured two records in winning the 3,200. Her time of 10:47.17 broke the school record of 10:55.84, set by Anne Evans during the 1987-1988 season and the conference mark of 11:02.88 set by Amanda Swaak of Madison High School in 2015. Beckner now has the school records in the 1,000, 1,600 and 3,200 meter runs, all set this season.
Seahawks dominate the sprint events with senior Timiebi Ogobri successfully defending his title in the 55 meters with a state-meet qualifying time of 6.51. Sophomore Stevie Jones ran a 6.73 for fourth. Freshman Rhema Konadu ran a 7.67 in the finals to win the girls 55.
SLHS also won both of the 4x800 meter relays: sophomores Jordan Anderson and Sophie Halkett teamed with juniors Aly Rayle and Sarah Wolfe to win the event in 9:46.17 while seniors Dimarcus Vilcheck, Jack Watkins and juniors Josh Umbrell and Alex Loukili won the boys division in 8:23.66. Senior Peter Sepulveda (10:15.23) was third in the 3,200 while junior Sean Casey (10:24.05) finished sixth.
Field event athletes also contributed to SLHS' first day success with senior Jessica Rice (32-01.25) and junior Megan Allison (31-10.75) finishing second and third, respectively, in the shot put. Junior Ronak Cuthill (47-04.00) was third in the shot put and sophomore Jacob Hataway was fifth in the pole vault (10-00.00). Ogobri and senior Don'ta Whitley were fifth and sixth in the long jump with both finishing with a mark of 19-11.50.
The meet concludes Saturday, Jan. 28 at the Prince George's Sports and Learning Complex in Landover, Md. SLHS is the five-time defending girls champion and has won the boys title eight consecutive years.