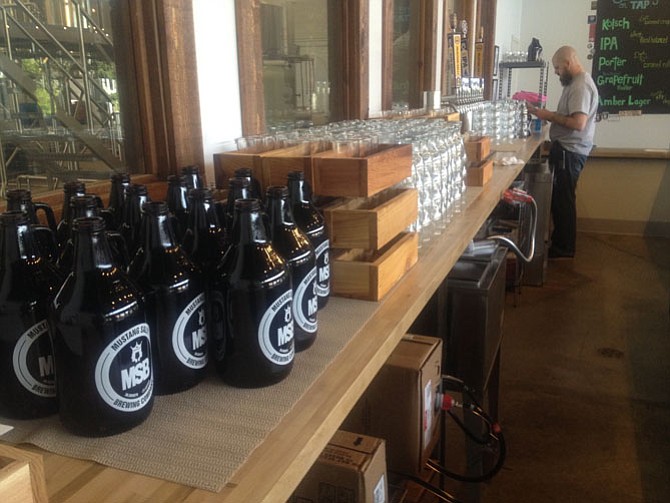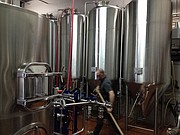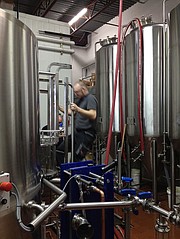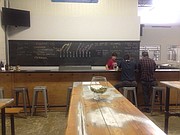 Northern Virginia experienced a beer explosion as microbreweries opened across Virginia and the nation. Herndon's Aslin Beer Company has entered the new year seeking new space. On Dec. 28, Aslin Beer Co. announced via Facebook, "As the new year is quickly approaching, we wanted to let you know that Aslin Beer Co. will be leaving the Town of Herndon in 2017."
Craft beer has enjoyed the spotlight, especially with changes in Virginia state law. In 2012 legislation such as Senate Bill 604 allowed production breweries to sell pints to customers. Rulings such as House Bill 359 and Virginia Farm Brewery Bill 2014 eased craft beer operations. In September 2015, Aslin Beer Co. opened in the Herndon business park at 257 Sunset Park Drive. Operated by Andrew Kelley and Kai Leszkowicz, they named the business after their wives' family name, Aslin. Third owner, Richard Thompson helps run the operation.
Despite snug quarters, Aslin enjoyed a reputation for their New England-Style IPA a juicy, hazy unfiltered beer with a cloudy appearance. Popular brews include: Mind the Hop, a single hop Citra double IPA; Orange Starfish; and Master of Karate, brewed with Galaxy, Mosaic and Amarillo hops. The owners decided to not focus on flagship beers, but enjoy freedoms of the creative process. "The micro brew scene is white hot and their success has definitely been part of that, as well as their beer. I truly love Mind the Hop," stated Herndon resident Bill McKenna.
In January 2017, new brewery equipment was installed at Aslin's location, making the Herndon site into a German-made, 8.5-barrel brewhouse. Aslin's taproom was closed following a ruling by the Fairfax County Fire Marshal on zoning requirements, restricting Aslin to 49 patrons. While Aslin could expand to 80 patrons, owners decided it would not be worth the cost. The brewery is renting 600-square feet at Beltway Brewing in Sterling, and is using a new to-go model, where patron can put orders for growlers. In a Jan. 3 Brightest Young Things article with Philip Runco, co-founder Andrew Kelley expressed lack of community support for the business.
Even before the ruling, Aslin's 2,250-square-foot location already had no room for expansion. Town of Herndon Mayor Lisa Merkel posted a response on the Aslin's Facebook Page, included in her statement: "I also understand they may ultimately relocate outside of the Town limits. Either way, I are (sic) committed to their success while they remain here and wish them continued prosperity, hopefully in Herndon."
Aslin has been one of seven breweries within Fairfax County. According to an Oct. 21 Washington Post article, Arlington County has three breweries, Fairfax County only seven compared to 21 for neighboring Loudoun County. Alexandria's Port City Brewing Co. brews about 17,000 barrels of beer per year and distributes along the east coast. (Many craft breweries produce about 3,000 barrels annually.)
Some of Aslin's old brewing equipment has been sold to Twinpanzee Brewing Company. A family owned nano-craft brewery in January obtained approval to operate in Loudoun County. Owned by Antonio Maradiaga and his wife, the family had initially planned to open in Fairfax County, but then decided on a location in Sterling.
As noted by beer blogger Paul Josuns, Fairfax County Planning Commission is planning public hearings on an ordinance amendment in January and February 2017. The proposal indicates the county is asking to have a microbrewery as a distinct (and defined) use (called a "craft beverage production establishment") and also to allow a brewery to be in an additional zoning area. The County Board of Supervisors will follow up with a Feb. 28 hearing.
With the success of neighboring breweries, there has been some effort to ease microbrewery business into Fairfax County. Fairfax County hosted its first ever Workhouse Brewfest on August 2016. Supervisor Sharon Bulova, chairman of the county Board of Supervisors, recognizes the microbrewery business could bring in sources of revenue to the county, which has historically relied on federal contracting businesses. "Fairfax County is really interested in helping to grow the tourism community, wine industry and now the microbrew industry," said Bulova.
Sean Hunt founder of Mustang Sally Brewing Company (MSB) in Chantilly notes the opening of his brewery could have been less complex if zoning regulations had been identified. Fairfax County's Zoning department requested a meeting with MSB owners so that it could propose amendments to the Code to enable breweries to open within the County; MSB successfully opened in May 2016.
While Fairfax County reviews regulations and red tape, Loudoun County continues to develop its reputation as home to the most craft beverage producers of any county in the Commonwealth. Neighboring Loudoun and Prince William counties have specific zoning rules in place for craft breweries and distilleries. After residents in the Fairfax County Town of Clifton objected to a proposed business called Loudmouth Brewery, the same owners were approached to do business in Prince William County. The site is expected to employ more than 100 people to make and sell craft beer.