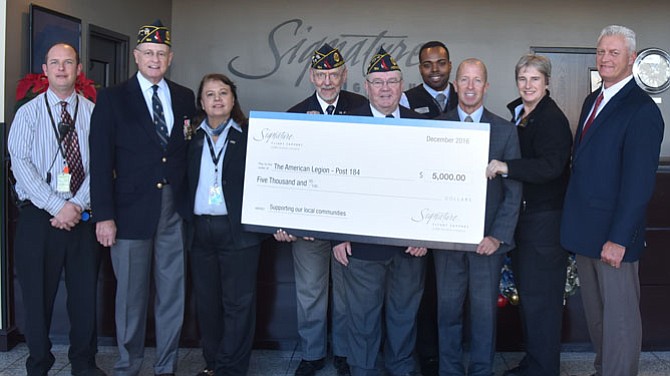 The American Legion Wayne M. Kidwell Post 184 located in Herndon, received a $5,000 donation from Signature Flight Support and their parent company, BBA Aviation, as part of the company's Charitable Giving and Supporting Local Communities Program. The presentation took place Thursday, Dec. 29 at  Signature Flight Support's facility at Dulles International Airport. The $5,000  donation will  be used through 2018 to support expenses for the Post's following activities: Memorial Day and Veterans Day Observances; the placing of American flags on the graves of all Veterans resting at Chestnut Grove Cemetery during Veterans Day and Memorial Day weekends; maintaining the Avenue of Flags at Chestnut Grove Cemetery; these are the 64 Casket Flags of Deceased Veterans Flown on Memorial Day and Veterans Day; providing American Legion Medals awarded to Naval Junior ROTC cadets at the Herndon High School Annual Awards Ceremony; and  sending 2-4 selected boys nominated by Herndon High School and South Lakes High School to American Legion Boys State. 
Area Director of Signature Flight Support, Robert M. Grant, said, "Our corporation respects and is eager to support the Post or any organization that serves our veterans."  
 During the past several years, Signature Flight Support has also provided employee volunteers to help with several of the Posts activities.  
 "We are very grateful to Signature Flight Support for this generous donation and for the many hours of volunteer time by their employees," said David Kirby, Commander, The American Legion Wayne M. Kidwell Post 184.