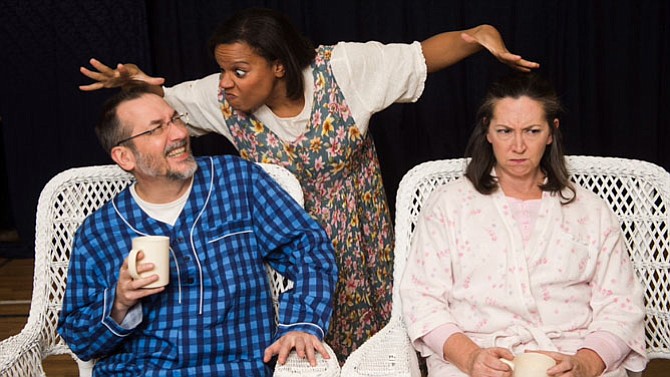 Reston — Ever inventive contemporary American playwright Christopher Durang's Tony Award-winning, "Vanya and Sonia and Masha and Spike" is the Reston Community Players' upcoming production.

Durang's "Vanya and Sonia and Masha and Spike" is an imaginatively adjusted version of several of Anton Chekhov's masterworks all packed together with modern American ingredients. Enjoying "Vanya and Sonia and Masha and Spike" requires "no previous knowledge" of Chekov, said Jolene Vetese, RCP Board President.

"We decided to produce 'Vanya' because it is such a funny, eclectic play," said Vetese. "It's a dark comedy that explores these sibling relationships and the people that intersect that relationship.
Playwright Durang riffed on Chekov's moody Russian characters then transporting them to present times in Bucks County, Pa. The play has a middle-aged Vanya (Andrew JM Regiec) and his sister Sonia (Lee Slivka) who live a quiet life after providing long-term care for their now-deceased parents.
Soon enough chaos begins when Vanya and Sonia's flashy sister and Hollywood actress Masha (Joanne Maylone) arrives for a belated condolence visit. Sibling rivalries flair along with wit and biting sarcasm. On and Masha has brought along her younger buff boy-friend Spike (Will MacLeod).

Andrew JM Regiec called his character Vanya a man who "while educated, he hasn't really lived and experienced the world except through books and TV and movies. Now that the parents are gone, he's looking back at a life gone by, a little forlorn, realizing he's got little future himself."
Vanya is "repressed…resigned to his life of living like a lump on a log; overly concerned about change," added Regiec.

For Lee Slivka her Sonia character is "snarky and funny as hell as she steps outside of her comfort zone. I want the audience to come along and maybe find a bit of that leap within themselves." Beyond laughter, "there are also moments which may move the audience as they watch this family navigate their history and complexity."
Inviting audiences to partake of Durang's "wonderfully funny look at people and family relations" Monk went on to say, "I would like audiences to come out laughing, remembering and enjoying the characters and the situations they have seen, and content with the final resolution."
Audiences taking in RCP's "Vanya and Sonia and Masha and Spike" will have plenty of zingy comedy as well as earthy revelations and even Snow White to savor as Durang's fictional on-stage characters' lives are turned upside down.