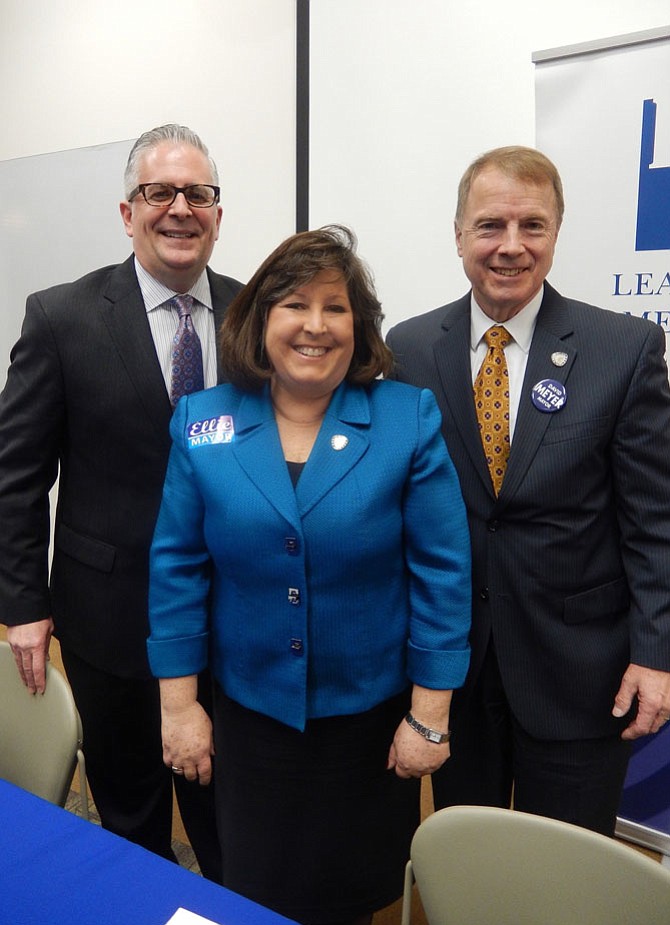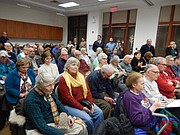 It was standing-room-only Monday night, Jan. 9, as some 140 residents packed a meeting room and spilled into the hall to hear the views of their candidates for Fairfax City mayor. A special election will be held Feb. 7, and City Council members Michael DeMarco, David Meyer and Ellie Schmidt are all vying for the job.
The League of Women Voters of the Fairfax Area sponsored the 90-minute forum at the City of Fairfax Regional Library. Each candidate made brief opening and closing statements and answered questions posed by the audience:
Q: What qualities make you a good candidate for mayor?
DeMarco: "I'm in my third term on City Council and have 30 years' experience as an executive in finance and marketing with Exxon/Mobil. I'm a strong leader and someone who's innovative, listens, researches and finds data-based solutions to moving forward – but not extreme; usually something in the middle is the best approach."
Meyer: "I was raised in a family with a service ethic, so it's part of my fabric. I'm in my fifth term on the Council. And as an executive with the Nuclear Regulatory Commission for 37 years, I've helped lead organizations to plan, think strategically and come to consensus. A mayor leads a group of leaders and must be able to work well with them. And I believe I have the personal temperament, openness and commitment for the job."
Schmidt: "My professional experience and volunteer service in the City. I'm in my fourth term on City Council, I grew up in Fairfax and, for over 40 years, I've been an active volunteer in my community and served on several boards and commissions, and I've been a banker and executive vice-president at Cardinal Bank since it began here in 1998. I believe in listening to residents and business leaders and being an inclusive and collaborative leader."
Q: Would you move Fairfax Boulevard development forward or stop it?
Meyer: "Fairfax Boulevard can be the driving, economic engine of our City. But Scout on the Circle promised a new grocery store and didn't sign a contract with one, and that's been frustrating. Within 30 days of becoming mayor, I'd bring Combined Properties to the table and ask what it would take to bring this project online."
Schmidt: "There are a number of stalled projects along Fairfax Boulevard, and I'm especially concerned about Scout on the Circle. We also have to look at projects' feasibility and what's realistic. I'd look at all the tools we have to deal with blighted buildings and possibly implement a fee system for those buildings to encourage property owners to move along with their development."
DeMarco: "I ran on a platform of success for Fairfax Boulevard, and what's happened there has been disappointing. The mayor is the face and voice of the City, and he has to negotiate with developers to make sure they do what they promise. Combined Properties also owns the Safeway shopping center, and we need to ask what they need to get these projects done. The mayor must be proactive."
Q: What's your position on the University Drive extension project?
Schmidt: "In December, I was the dissenting vote to defer the discussion. I don't think we're ready for that extension. A grid [street] system is important to Northfax, but we don't have a [development] plan, yet. And it would promote cut-through traffic in the residential end of University Drive."
DeMarco: "This is a learning experience for us. There's [outside] money available to us, but the street design doesn't allow for parking and frontage. It needs a lot more work; but with additional money for engineering, I think we can get there. But we don't want it to be a cut-through to Eaton [Place]. We want people to stop, get out and shop."
Meyer: "This is our last opportunity to create an economic engine to position this City for the next 50 years. But there's no viable plan. We were well-intentioned and got the funding, but we didn't have answers to the residents' questions. So I think we should instead ask a national firm to do a plan for the entire site."
Q: With a diminishing revenue base, do you have the courage to make budget cuts to avoid burdening the homeowners?
DeMarco: "It's static, not diminishing. But we need to grow our commercial-revenue base by having these commercial centers get that retail in there. Increasing property taxes should be a last resort."
Meyer: "We want to bring that commercial level up to get the resources to balance our budget. We need to invest in our commercial base to grow our resources."
Schmidt: "We need to fill up the empty commercial spaces and be business-friendly. And we need to live within our means, while prioritizing things like fire and police."
Q: How would you encourage diversity in City government?
Schmidt: "To encourage diversity in our City boards, commissions and activities, we should use our many communication methods to communicate [the available opportunities] to people."
DeMarco: "Fairfax in the 1970s was 2-percent diverse, and it's about 38-percent diverse now. But it's virtually zero on our boards and commissions, so we have to actively recruit and encourage them."
Meyer: "Fairfax's diversity is twice the national percentage, but our leadership doesn't reflect that. We need to get our diversities to participate in our government to learn leadership and democracy."
Q: When will streetlights be installed on George Mason Boulevard?
Meyer: "I hope as soon as possible. We have a lot of students walking from campus to downtown and back, and I'd like them to have extra safety. I've asked [City] staff for cost estimates and want it in our budget."
Schmidt: "We need to have the information so we can have enough light for our pedestrians."
DeMarco: "Lighting there needs to be a priority and needs to be done ASAP."