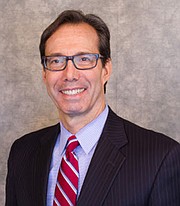 Arlington County Board Chair Jay Fisette has decided not to run for re-election to the board this year.
"I just returned from a trip abroad, where I gave this a lot of thought," Fisette said. "I have decided that it's time to find a new platform and seek new ways of protecting and advancing some of the progressive values that are so important to me, values we have championed here in Arlington that are threatened by the current administration. I will not seek a sixth term on the County Board. Stay tuned."
Fisette, first elected to the board in 1998. He cited his decades of work on long-term sustainability issues, including smart growth urban planning, strong environmental policies including adoption of the Community Energy Plan, a multi-layered transportation system that includes Metrorail, bus and Capital Bikeshare, and a robust local affordable housing program, as among the accomplishments of which he is most proud.
Fisette served on regional and statewide bodies, including leadership roles with the Washington Metropolitan Council of Governments, Transportation Planning Board, Northern Virginia Transportation Commission, Virginia Municipal League and Virginia Housing Development Authority.
Fisette has lived in Arlington since 1983 and has owned a home in Ashton Heights, with his husband, Bob Rosen, since 1987. The couple will stay in Arlington, he said.