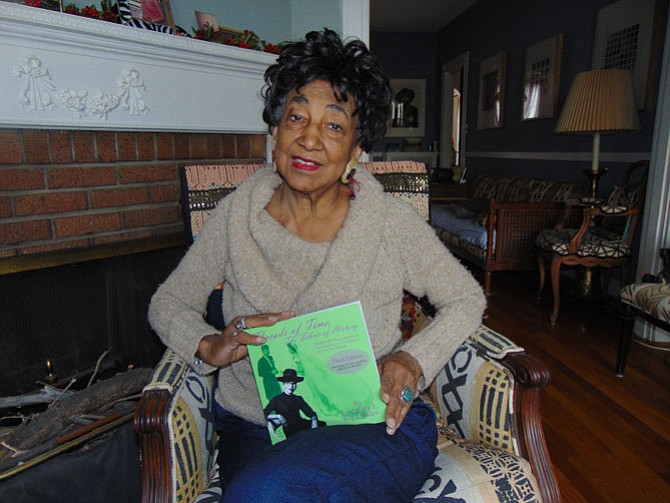 Author Rosemary Reed Miller, 77, of Washington, D.C., will be speaking at the Potomac Library on Saturday, March 18 at 2 p.m., about her book, "The Threads Of Time, The Fabric Of History: Profiles Of African American Dressmakers And Designers From 1850 To The Present."
In commemoration of Women's History Month, she will be sharing research that she conducted on African-American women who were clothing designers, quilters, and milliners. "I was mainly interested in women in the 1800s; I found that nobody had done work on women in the past," said Miller, who took five years to research and write the book. Prior to that, she was a reporter at The Washington Post and The Washington Star; and ran a clothing shop in the District called Toast and Strawberries for 37 years.
She's been promoting her book to the Congressional Wives Club, the Kojo Nnamdi Show on NPR, and local libraries.
A highlight of the book is Elizabeth Keckley, a former slave who designed dresses for First Lady Mary Todd Lincoln, wife of Abraham Lincoln. "It put her in a very esoteric level because everybody wanted to come to her," she said. Back in the 1850s, ball gowns could cost between $100 and $200. The dress she designed for Lincoln's inauguration is shown in the First Ladies Exhibit at the Smithsonian Institution.
Another highlight is designer Ann Lowe, whose client was Jackie Kennedy when she married in 1953. "Jackie wanted a plain dress; that's what was happening in France at the time, and her mother and Jack Kennedy got into it, and he canceled that and asked for a rather fancy, lots of details dress," she said. "Ann Lowe was known for doing designs with a lot of details and flowers, and so she ended up getting the job for the wedding party; which had 11 women and children."
With the exception of The Washington Post, she said newspapers at the time gave all sorts of details about the dress, but no mention of the designer. "Nobody touched it; it was amazing. It just shows you subtle racism. The Post was the only one who mentioned her name and this was a major wedding," she said.
The book, which profiles 38 people, spans the 1800s to the 1950s, with some current designers thrown in. The all-Black women are mostly from America, but three of them, Hazel Blackman, Claudia Robinson, and Pamela Botchway, are from Jamaica, and Ghana, respectively. There's current designer Tracy Reese, who made dresses for First Lady Michelle Obama. And local fashion designer Sahara, who sells to Neiman-Marcus, who will be showing her designs using models from the audience at the library talk.

Miller lives with her partner of 20 years, John Howard, a retired attorney. She has two grown children: daughter Sabrina, who works in real estate; and son Paul (DJ Spooky), an artist in residence at the Metropolitan Museum of Art.
The book talk, sponsored by Friends of the Library, Potomac Chapter, will be held Saturday, March 18 at 2 p.m., at Potomac Library, 10101 Glenolden Drive. Call 240-777-0690.
"Threads of Time: African-American Women Designers through History" retails for $24.99 on Amazon.com and Kindle in slightly different versions.