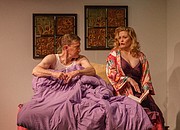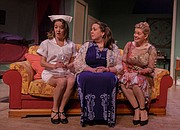 The Little Theatre of Alexandria (LTA) is staging "Key for Two" from Feb. 25 to March 18. The classic British farce centers around Harriet, a divorcee with financial woes, until she takes control of her finances by entertaining — and collecting rent — from two gentlemen callers. To keep things straight, she orchestrates their comings and goings very strategically. Her carefully calculated scheme falls to pieces when Harriet's men arrive at her flat on the same day followed by their irate wives.
"The play is a domestic comedy, a British farce, with lots of situational and physical humor. It has been called 'a thoroughly engaging romp.' It is very fast-paced — you're laughing at one situation after another," said Producer Jean Coyle.
She added: "The play is one of those laugh-a-minute productions. Audiences should be ready to 'split their sides' at the hilarity presented before them on the stage."
Director Eleanore Tapscott wanted to pay tribute to farce as a specific theatrical form. "I love directing comedies, but particularly farce because getting the timing of the language and physical business — all the while working with the actors to establish relatable three-dimensional people, takes a lot of time and energy," she said.
She added: "I particularly love this play because we have women who are the key protagonists. In this type of British sex farce, it is usually the gents running around all frantic, and that dynamic is completely flipped with this production."
She said the challenges were working on the timing of the physical comedy, which has to be precise and requires a lot of repetition. "My fight choreographer, Ian Claar, has done a great job developing the various falls and working with the cast to ensure they can perform the various falls and stunts safely," she said.
Charlene Sloan plays the role of Harriet, a modern, enterprising woman who has engaged in some questionable behavior to maintain her standard of living despite a failing economy.
"This has been a challenging role because in addition to memorizing the normal amount of lines for a play this length, there is the additional struggle to remember the string of lies and mistaken identities that occurs in the plot. It is also a very funny play so trying to keep a straight face is hard too," she said.
Cal Whitehurst plays the role of Alec, a self-made businessman who worked his way up from enlisted man in the British Navy, to crewman on the fishing trawler, to owner of a fleet of fishing vessels. "He is a strongly physical man, very attracted to Harriet, but has come to see his wife more as a wife and mother than a romantic partner," he said.
He said: "The challenge in farce — where the situations and everyone's behavior become increasingly outlandish as the plot progresses — is to maintain your character's sincerity and believability. I have to stay true to Alec as this stodgy guy trying to keep up as things around him get increasingly out of control."
Justin Latus plays the role of Richard, the alcoholic husband of Anne. He said: "The challenges are appearing and sounding drunk while pulling off a convincing British accent. I've never been drunk in my life but have taken notes as I've observed others. If the reader is at a bar and sees someone taking notes, that's probably me," he said.
He added: "I hope audiences laugh a lot and find the show ridiculous but in a good sort of way."
Peter Harrold plays the role of Gordon, one of the two gentlemen with a "key." "I am an advertising executive currently under serious financial pressure. I am not low on self-confidence, but a bit of a whiner. And clearly, as the audience will see, not too good at suffering pain," he said.
He said there are only two types of theater worth doing in difficult times: overtly political theater that addresses the big issues we are facing; and comedy, to give audiences a break and let them relax and enjoy the great medicine of laugher. "Safe to say this is no political drama. But if we do our job with this great script, laughter is sure to follow," he said.
Dana Gattuso plays the role of Anne, an old friend of the lead character, Harriet. "Harriet invites Anne to stay with her and within minutes, Anne becomes embroiled in Harriet's increasingly complicated plot to juggle two lovers," she said.
"'Key for Two' is the first farce I have ever done so that has been challenging but also lots of fun. One of the challenges has been to keep it big but also believable. There's an energy that needs to build throughout the play, particularly as we the characters get more ensnared in the complications of the plot and the stakes intensify," she said.
As a co-producer, Becky Patton said the show is fun with laughs and brings out the great wit of Tapscott, the director. Patton handles the business end of the show — getting the technical designers and their crews and making sure everything is running smoothly to all coincide with opening night.
"When you work with all volunteers, this can be challenging — everyone has a day job, after all. But the community that is LTA always pulls together to create a polished product. I never cease to be amazed at the folks we get," she said.
The Little Theatre of Alexandria is staging "Key for Two" from Feb. 25 to March 18. Tickets are $19 to $22. Show times are Wednesdays through Saturdays at 8 p.m.; Sunday matinees at 3 p.m. The venue is located at 600 Wolfe Street, Alexandria. Visit www.thelittletheatre.com or call the box office at 703-683-0496.