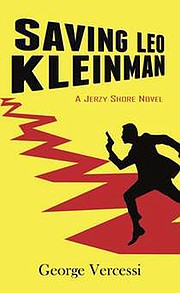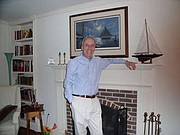 George Vercessi, a longtime Alexandria resident, published a sequel to his cold case mystery "NCIS Agent Jerzy Shore," continuing the adventures of NCIS agent Jerzy Shore.
In "Saving Leo Kleinman," NCSI agent Jerzy Shore must connect the dots between Leo Kleinman, an American naval intelligence analyst who is serving a life sentence for selling military secrets to Israel, and the Israeli air and naval attack on the USS Liberty in the eastern Mediterranean Sea on June 8, 1967.
"This was inspired because I got such positive feedback from the last novel I wrote. People were asking me if I would write a sequel. I never really wrote a sequel before but I thought I'd give it a try," Vercessi said.
While trying to figure out a plot for his new novel, he remembered an attack on the USS Liberty by Israeli forces that occurred during his time in the Navy. He then created a cold case mystery for his main character to solve by tying the "decades-old attack on the USS Liberty" to the present day attempt to harm Kleinman.
When Vercessi mentioned the idea to his writers' group, they thought it was a perfect idea for a novel.
Character development was another challenge he faced in writing a sequel. In the first novel, he provided much detail about Shore's life and personality so he didn't want this novel to be repetitive yet he still wanted first time readers to get a well-rounded view of the character.
"For instance, in the first book, I wove the story about how he takes care of his disabled sister into the plot but in this book I just alluded to the fact that he had a sister he took care of," he said.
He also touches on the main character's bad luck with romance and attempts to appear more youthful through his adventures in speed dating and his recent hair transplant.
Asked to describe the novel's genre, he replies it is "mid-life crisis mystery romance novel."
Vercessi spent a good amount of time researching the various topics essential to the plot from the actual attack on the USS Liberty and the federal prison system to speed dating and hair transplants.

To get a better feel for the language and culture of the federal prison system he reached out to a man he had previously assisted in writing his memoir and who had experience in the federal prison system.
"There were a lot of books and articles I read on how prisoners try to scam the system," he said.
He also turned to retired FBI Special Agent Sharon S. Smith, Ph.D. who specializes in the field of psycholinguistics. She helped him figure out which linguistic clues his character needed to find in order to piece together the puzzle of the identity of an anonymous letter writer.
Even though "Saving Leo Kleinman" is only 200 pages, Vercessi spent nearly two years writing it before its release on Oct. 9, 2016. He explained that this novel took longer because he shared each chapter with his monthly writers' group.
"Saving Leo Kleinman" is available at Amazon, Barnes and Noble, and bookstores nationwide.
George Vercessi retired from the US Navy with the grade of captain after serving for 27 years. He has Master's Degree in mass communications from San Diego State University and a Bachelor of Arts in political science from La Salle College in Philadelphia. He enjoys listening to opera and collecting art in his spare time.