Centreville — The boys' varsity basketball teams at Chantilly and Centreville, schools only separated by 4.5 miles, met for the 2016-17 Conference 5 final on Feb. 17 hosted by Chantilly High School.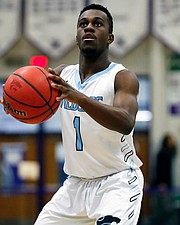 Centreville (16-7) earned the #1 seed and in the first their first conference tournament game defeated Robinson 51-48, while Chantilly (15-7) the #2 seed got by Herndon 48-46.
The first quarter would have the Chargers take an early 16-10 advantage after playing the first 8 minutes.
In the second quarter the Chargers would continue their good start outscoring the Wildcats 16-11, giving them a 32-21 halftime advantage.
In the third quarter Centreville would inch closer, holding the Chargers to just 9 points while scoring 13, and closing the deficit to 41-34.
The fourth quarter would belong to the Wildcats. Chantilly would be held to 10 points, but more importantly the Wildcats would explode for 28 points in the quarter to earn the Conference 5 Tournament Champions with a 62-51 win.