Centreville — Nearly three weeks have passed since Centreville's April Costello has seen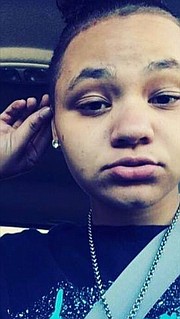 her daughter, Carla Hope, 16. The girl ran away from her home in the Newgate community on Feb. 3. Costello believes she's still in Fairfax County, but believes she's in an unsafe situation.
Describing Carla as friendly and outgoing, Costello said, "She's a comedian – very funny, and people like to be around her. She's a very likable kid." Costello also said her daughter receives in-home therapy, seven hours a week, but stressed that they had a good relationship.
Costello said all was well between them, the night before Carla vanished. But, she said, "I woke up the next morning and she was gone. It's nothing I want any other parent to ever go through. It's the first time she's ever left home. She used a texting app to contact me last week, saying she was fine. But I'm very worried about her safety because she's with people who don't have her best interests at heart."
Costello contacted Fairfax County police and reported her daughter missing, but is unhappy with their decision not to publicize Carla's disappearance. "I feel like the police should be helping more than they are," said Costello. "Every missing kid should be publicized and should get the same treatment."
However, police spokeswoman Megan Hawkins explained that "Detectives work these cases, but we don't put out press releases on juvenile runaways because, usually, they've voluntarily left home. For us to put out a press release, they must be critically ill and endangered."
So Costello also contacted the Center for Search & Investigations for Missing Children (CFSI) to help search for Carla. "We're in every state and volunteer our time for free," said Tina Pearson, a CFSI regional director. "We work hand-in-hand with law enforcement, and it's a wonderful feeling to hear the words, 'Found safe.'"
Meanwhile, Costello, as well as Carla's brother, 20, are hoping she'll return. Costello wants her daughter to know that "The people who truly love her are really concerned about her wellbeing and want her to come back home where she's loved."
Carla is 5 feet 6 inches and 140 pounds, with brown hair and eyes and a rose tattoo on her left forearm. Anyone with information regarding her whereabouts may call police at 703-691-2131, private investigator Kimberly Williamson at 888-756-6825, or CFSI at 512-537-6603 or www.cfsimissing.com.