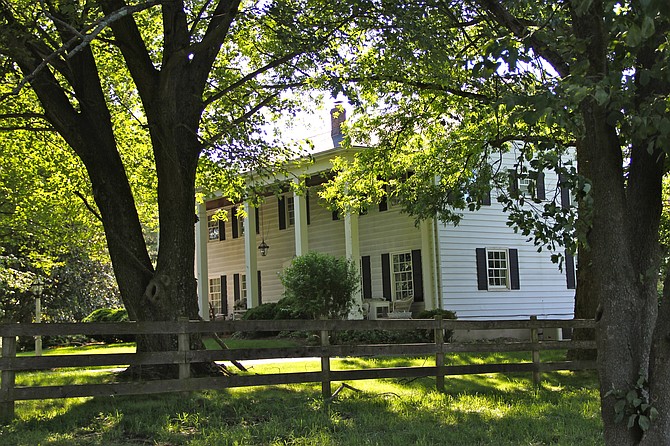 The 6.89-acre Thompson Farm at 964 Walker Road has been demolished.
"The property has been in the family for a little under 200 years," said Linda Thompson.
Thompson moved onto the land when she married into the family. She and her husband raised their children on the property. Years later, Linda divorced her husband and moved off the land.
IT WAS YEARS later when her relationship with the property — where she had many fond memories of riding horses — would be rekindled.
Her former brother-in-law asked her if she could sell the property when Hazel Thompson, her children's grandmother and owner of the property, died.
Linda Thompson is a real estate broker with Berkshire Hathaway HomeServices PenFed Realty in Great Falls. She is also president of the Optimist Club of Great Falls.
"The more I thought about it, I thought, 'Well, I'm at a position where I can actually buy it and get my children's inheritance back, essentially,'" she said. "So, I did."
Soon after she bought the land, she began boarding horses on the property. Her children and grandchildren would come by and help.
"I'm not a spring chicken anymore," she said. "The kids have their own lives … and it was getting to be a bit hard on me physically and financially."
She tried to sell three acres of the nearly seven-acre property, which would have been enough to pay off her mortgage, but the deal fell through, according to Thompson.
"There were a lot of extenuating circumstances and the market was falling, so the builder found an excuse to back out of the contract," she said.
When a builder came by to make her an offer on the entire property, she decided it was time to move on. This was a difficult decision for her.
"It was definitely a conflict because the original plan was to only sell off part of it," she said. "A lot of neighbors and friends that know me have voiced that they were very sad to see it go and that they would miss the horses."
But her decision became easier when neighbors began giving her a hard time about road apples in the street.
K. Hovnanian Homes of Virginia Inc. bought Thompson's property for a little over $2.9 million on Nov. 3, 2016, according to Zillow and county property records.
"I knew they were going to tear everything down," she said.
This would have included the 3,880-square-foot farmhouse that was built in 1943 and the large barn on the property that dates back even further to 1917. Thompson used this barn to host annual dances that benefitted the Optimist Club of Great Falls.
"It was built the right way," Thompson said of the barn. "It was solid."
The community took to the online Nextdoor social network when they realized everything on the property had been leveled.
Paula Brassfield posted this message to the Great Falls neighborhood forum in Nextdoor:
"For over 40 years, I have passed by the Thompson Farm on Walker Road en route to Leesburg Pike. The owner, Hazel Thompson (a very dignified lady), welcomed me to Great Falls back in the 70s and I looked lovingly at her graceful and always well-maintained farmhouse, barn, outhouses and horses. A more recent relative provided benefits for the optimist club in the beautifully decorated barn. To see the demolition of the house and barn today has brought tears to my eyes. What I will never forget is the annual illuminated Christmas sign. God Bless us everyone ... A beautiful tribute to this lovely family and their corner here."
Fortunately, for many in the community who were mourning the demise of the farm, Thompson hired an Amish group to disassemble the barn so she could rebuild it.
"We're going to have a barn raising party," she said. "There was some damage, but we're going to rebuild, hopefully this spring or during the summer."
She plans to invite everyone from Great Falls to her new farm on Sumerduck Road in the village of Sumerduck, Va., if they are willing to make the trip.
"It's out in the middle of nowhere," she said.
THE COMPANY that purchased the Thompson farm did not respond to the Connection's inquiries about its plans for the property. However, Thompson said they will be building six contemporary homes to replace the structures they tore down.
"It should work well because there's a nice contemporary on the hill right next to the farm," she said.
This will be the second property the company has purchased in Great Falls. It is constructing five homes at its Line K Estates at Leigh Mill at 734 Leigh Mill Road in Great Falls. It is offering three designs to home buyers that start at over $2 million each.
The company's website markets the new homes as "the best of both worlds with innovative modern single family new homes in quaint Great Falls, Virginia."
Three of the five homes have already been sold and construction is underway.