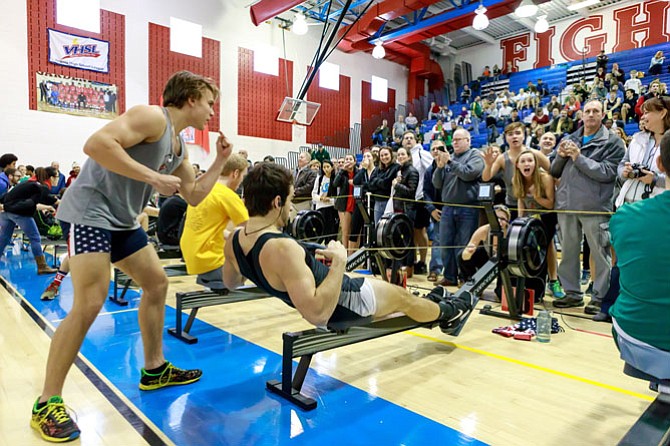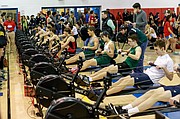 Athletes from Alexandria Community Rowing were among those setting records at the 2017 Mid-Atlantic Erg Sprints held Feb. 4 at T.C. Williams High School.
Hosted by Alexandria Crew Boosters, two dozen records were set in several age categories from junior to veteran and across all distances from 500-meter sprint championships to the erg marathon.
Setting records from Alexandria Community Rowing were: Pearl Risberg - College Coxswains Women 500-meter LTWT 120 lbs - 1:48.9; Peter Heimberg and Scott Atkinson - Senior Men (40-49) 3-minute crash double slide - 1,739m; Cynthia Way – Open Women Erg Marathon – 3:38:54.02; and the team of Senior Women (40-49) in the new event of 5-Minute quad slide team - 5,105m.
Griffin Canfield of Mount Vernon RECenter Rowing Rats set a record in the Open LTWT Men Erg Half marathon with a time of 1:22:21.9.
Two new events this year set the bar for 2018: Adaptive Men Visually Impaired (LTA) and Adaptive Men 50+ Physically Disabled (LTA).
For the first time in Erg Sprints history two or more individuals/teams weighed in to compete as lightweights in the Open LTWT Men Erg Half Marathon, Open LTWT Women Erg Half Marathon, and Senior (age 40-49) Women 5-Minute Quad Slide.
Additionally, five competitors had qualifying times for C.R.A.S.H.-Bs to be held in Boston on Feb. 12: William Brownlee, Veteran G+ (Age 80+) Men 2000m - 8:51.7; Syd Lea, Adaptive Men Intellectually Disabled (Legs/Trunks/Arms) - 3:12.6; Cynthia Cole, Veteran C (Age 60-64) Women 2000m - 8:07.4; Joseph Johnson, Junior (Age 17) Men 2000m - 5:58.0; and Robert Spousta, Veteran D (age 65-60) Men 2000m - 6:57.7.
For complete results, visit www.ergsprints.com.