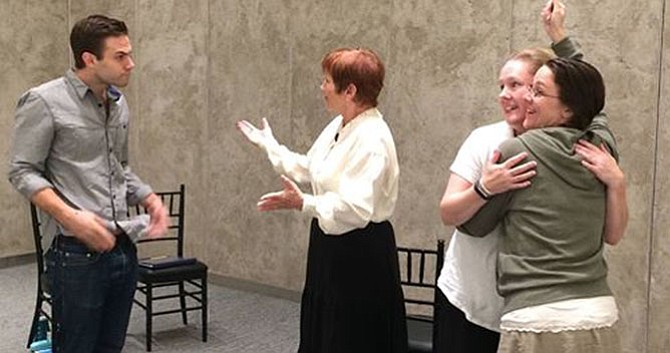 Alexandria — A new Pipeline Playwrights group in Alexandria has launched its 2017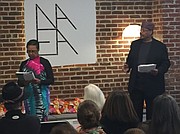 inaugural series with four new plays by four women writers. Pipeline Playwrights is a group of women playwrights, ages 30s to 50s, who are based in Northern Virginia, and working together to support, present, and promote each other's work with the goal of moving their plays into the local and national theater pipeline.
Each of the Pipeline Playwrights — Jean Koppen, Soo-Jin Lee, Ann Timmons, and Patricia Connelly — will present a reading of a new full-length play in the 2017 spring reading series at MetroStage in Alexandria.
"Each reading is a play by one of the playwrights at MetroStage in Alexandria," said Patricia Connelly of Alexandria, one of the playwrights and co-organizers who works as an attorney. "Readings are an important part of the development process. We have professional actors who read the play on stage. It's to give the audience a sense of the play."
She said that it's a work in progress at that point. The writers solicit comments from the audience to hear what's working and what's not working; it's an opportunity for the playwrights to hear their plays out loud.
She said the group first met at a Dramatist Guild Conference at The Kennedy Center in 2014 and formed a group of writers called the Northern Virginia Writers Circle. "We meet every couple of weeks; we read aloud our plays and give comments. Out of that group, we decided to try to take our work out publicly."
Up first on Feb. 27 is playwright Ann Timmons' play, "A Very Present Presence." This comedy opens as Alice's mid-life crisis is interrupted by a visitation from her long-dead great-aunt, who takes her on a journey through time. And Alice learns that her problems spring from sources deeper than she imagined.
"Ann is a professional actor and a writer. She got her start in New York and she wrote a couple of one-woman shows that she toured around the country," said Connelly. "It's a comedy and one of Alice's ancestors was a Suffragette, and although Ann has been working on the play for probably a year, the subject seems timely."
Next on March 20 is Soo-Jin Lee's play, "The Men My Mother Loved." "The play is about a mother and daughter; the mother takes the daughter on a trip to South Korea where the mother grew up and she introduces her to people from her past, including former boyfriends," added Connelly.
On April 3, Patricia Connelly will present "Around the Snake Turn," a drama set in West Africa in which a mother pits herself against her extended family, her culture, and the centuries' old tribal religion of the village, to save the lives of her children.
Connelly said she spent two years working on the play about sex slaves called Trokosis (meaning ritual servitude). "I got the idea for the play when I saw an article in the New York Times about a young girl who was given for a sex slave to the village priest to atone for a crime committed by a relative. It was in West Africa and this was a 12-year-old girl who was a slave ... The story haunted me that this was a system of justice."
On May 8, the final play by Jean Koppen called "Unprotected" will be featured. In Koppen's new drama, a mother and her teenage daughter confront the subtle and not-so-subtle ways women are vulnerable to sexual assault.
"It's about a mother, father, daughter, and mother's brother, his wife and son. There's an incident involving cousins, two teenage children. And in the course of that we learn something about the mother's past," said Connelly.
All play readings on Mondays at 7:30 p.m. at MetroStage, 1201 North Royal St., Alexandria. They'll be readings of the whole plays with times for discussion with the playwrights and actors. A reception follows.
More info at: www.facebook.com/events/101047870374049.