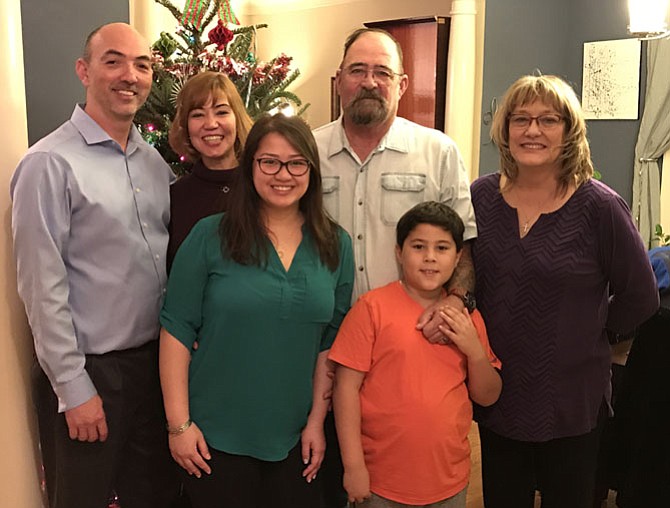 Tina Diep Carmichael and Joe Nguyen have a good life together in Centreville's Sully Station II community. But nothing came easy for them. They didn't meet until they were mature adults with their own lives. And considering their turbulent, violence-filled childhoods, it's a wonder they survived, at all.
Both were born in Vietnam, products of Vietnamese mothers and American servicemen fathers, and each didn't find those fathers until recently. And for Carmichael — who just added her dad's name to hers a few months ago — the news about him came the same week she was diagnosed with cancer.
"My mother left me when I was just 3 days old, and I was raised by adoptive parents in Vietnam," said Carmichael. "When I was around 8 years old, I heard a neighbor talking about me being adopted and I asked my parents, and they said I was."
Nguyen's situation was similar, except his mom stuck around and raised him after his dad, like Carmichael's, returned to the U.S. But for the Amerasian children left behind, life was hell on earth.
"We looked different from everyone else," said Nguyen. "Our hair and eye colors and complexions were different, so we stuck out like sore thumbs. There's a whole generation of us, and the other kids teased us and hit us."
"They'd say, 'Go back where you came from; you don't belong here,'" said Carmichael. "The other kids would beat me up and tear my clothes."
Nguyen called the physical and verbal abuse "normal, day-to-day activities," noting that since the Amerasian children were outnumbered, they were easily bullied. "It was politically motivated," he said. "Vietnam is a Communist country and we were the children of the enemy."
Finally, he and his mother moved to the U.S. in 1983, in search of a better life. Carmichael and her family came here in 1988, first to New York City and then to Pennsylvania. Neither one knew the other, but both joined a Facebook group for Amerasians. Both hoped to find their birth fathers, and they began corresponding with each other, eventually met and hit it off.
Carmichael thought Nguyen looked cute, and he was attracted to her because "She was full of joy and had a smile that brightened up my world." By then, he was a U.S. Air Force veteran living in Fairfax and working for the federal government, and she'd owned a nail salon in North Philadelphia for 22 years. She moved to Virginia in June 2016 and they settled together in Centreville, where she's a nail technician at Sully Nails.
But while they were still corresponding, Nguyen searched for his biological father and found him (see related story). So he helped Carmichael do the same. Through the Facebook group, he said, "We tried to help other Amerasians in Vietnam prove their identity and come to America. They had no papers, but DNA tests tell you the percentage of European blood in your body, so they could take these tests and know their fathers were American."
Carmichael took her DNA test in December 2015. She'd ordered it earlier and it arrived the day she and Nguyen met. Then, using ancestry.com, it took him 10 months to build her family tree and find out her father's last name.
Nguyen messaged her dad first, but got no response, so he contacted the dad's wife and daughters, and daughter Michelle responded. "She's a real-estate agent, and I saw a photo of her on her Facebook page with the phone number of her company on it, so I called her," said Nguyen. "And in early November 2016, I texted her saying I was looking for my wife's biological father and he could be related to her."
Nguyen said it was important she call him, especially if her father was in Vietnam during the timeframe when Carmichael was conceived. When Michelle did call, she said she'd contacted her mom, Keri – who asked her husband if it was possible Carmichael was his daughter, and he said yes.
"The mom wanted to talk to me to make sure I was real," said Carmichael. Keri also spoke with Nguyen and made an impression on him. "She was concerned about Tina and wondered how she was," he said. "She asked, 'How was her childhood? Who raised her? Was she happy? Did she have a good life?' She was very motherly, not angry or suspicious that Tina wanted something from them."
"And that made me happy to know she was concerned about Tina's wellbeing, even before there was definitive evidence about who her father was," said Nguyen.
"And my dad said, 'Even if she's not mine, if she wants me to be her father, I will be,'" recalled Carmichael. "I was so overcome with emotion, I cried. And he told me I have three sisters. So I texted Michelle and she called me and we quickly became close."
Since it takes six weeks to get DNA results back from ancestry.com — and both Carmichael and her father, Donald "Doc" Carmichael, were anxious to get the answer quicker — they both took LabCorp DNA tests and, two days later, got the results.
Meanwhile, Tina Carmichael had had pain in her left breast and was on the way to Philadelphia to see her doctor when Nguyen got a phone message that the DNA test results were in. An email confirmed with 99.9-percent certainly that Doc indeed was Tina's father. And when Carmichael returned home, Nguyen told her in person.
"I couldn't believe I knew where I came from," she said. "I grew up with no mom or dad, so I felt, 'At least I'm somebody.' Still, it took a while for me to really believe it. But now I have a family."
Overjoyed, Doc and Keri immediately bought tickets to fly from their home in Albuquerque to visit Carmichael. "But five days later, I was diagnosed with breast cancer, and they were arriving two days later," said Carmichael. "I was happily decorating the Christmas tree to welcome my parents when I got the news, and I just dropped everything. I thought I was going to die."
But when Doc and Keri arrived, they went to Carmichael's doctors' appointments with her and told her she'd make it. "My dad said, 'God didn't bring you here to take you away from me,'" she said. "And for a minute, seeing him, I almost forgot, I was so happy — and then it would hit me again." She and Keri bonded, too, and Carmichael calls her "Mom."
They flew home after a week, but returned for a month when Carmichael underwent a double mastectomy, Jan. 13. "All the time I was in the hospital, my mom and dad were on each side of me, holding my hands," she said. "They also took care of me when I came home. I'm 45 years old, and I finally had a mom tuck me in at night and give me a kiss. It meant a lot to me to have their support and to have them here; they were worried about me and cared about me."
"We're both fortunate because our dads and their wives and children accepted us and love us," added Nguyen.
Now 65, Doc was just 19 when he went to Vietnam, and he now wants to help other Vietnam veterans find their children. And, said Nguyen, "There are still a lot of them out there."
"I'm so lucky," said Carmichael. "At the same time I was going through cancer, my dad showed up." She has two daughters, herself, Cindy, 26, and Michelle, 19, and a son, Bryan, 9. "Eighteen months ago, I was a single mother, raising my son alone," said Carmichael. "I raised all three alone and put my daughters through college."
And that's important, said Nguyen, since "As Amerasians, people often told us — because we had mixed blood — we'd never amount to anything."
"But I proved them wrong," said Carmichael. "I've had a successful career and I have a good home and people who love me."