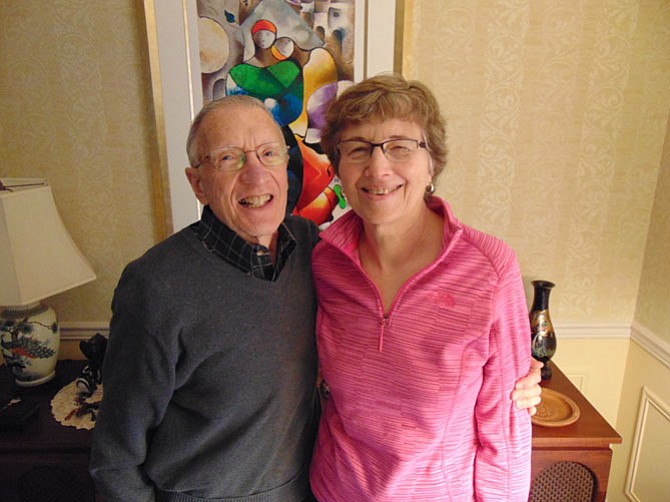 Sheila and Barry Taylor of Country Place in Potomac have been married for 58 years. Both were the only children in their families and were married in 1958 in a small synagogue in Philadelphia. He was 22 and she was 20.

As reformed Jews, they started raising their family in Philadelphia; then Lawrence Township, N.J.; then Potomac where they moved in 1970. Now they have lived in the same house for 46 years. The couple has three grown children: Debbie, 55; David, 52; and Denise, 50; plus six grandchildren, ages 7-20.
What Sheila loves most about him is his kindness, she said. "He's just sweet and he helps me when I ask for help. Maybe not so fast but he gets to it eventually and he likes to do the same things that I like to do," she said.
Barry feels the same: "She's considerate and a generally enthusiastic kind of person who's generally happy and cheers me up."
The secret to a good marriage said Sheila, age 78, is having similar interests. "We spend a fair amount of time together enjoying the same things. We go to the opera together, we have theater tickets. We do traveling together. We visit our children, our grandchildren. And we usually have dinner together."
Barry, age 80, added that common interests and points of view of the world are important. "Our attitudes toward money, for example ... we don't like to spend money. We're driving 16-year-old cars. We don't need to have the fanciest things. We rarely have any arguments about money."
Barry said his wife also tolerates his idiosyncrasies. "I'm somewhat of a workaholic; I'm a scientist emeritus at the National Institute of Standards and Technology, so she's tolerant of my work ethic."
The couple first met at Temple University's physics department in Philadelphia in the 1950s. Barry was two years ahead of Sheila, who had been dating other physicists when she found him. What attracted him was that she liked the same things as he did. "We had this common interest in physics," he said. "She liked me, and if someone likes you, you tend to like them back."
Sheila added: "I had dated a couple of other guys in the physics department, but I thought he was cute."
Sheila grew up in Philadelphia's Center and moved to Oxford Circle. Barry grew up in Strawberry Mansion. He attended Temple University then the University of Pennsylvania where he received a Ph.D. in physics in 1963. "Those were the glory days of science," he said. As a teaching assistant, he didn't have to pay for tuition.
Sheila also studied physics at Temple University, worked for a couple of years and then received a master's degree in computer science from the University of Maryland in 1970. She worked at the Dental Institute at NIH and discovered she could make more money as a computer person.
In her spare time, Sheila volunteers with the Potomac Community Village where she's on its board and does the IT work, maintains its website and data base. She's also a volunteer driver for Village Rides, which gives rides to local people. "It's a way to keep people in their houses by providing services for them and socialization and driving to appointments," she said. "I'm very involved with this organization."
Barry works on the Religious Practices Committee at his temple, Temple Beth Ami in Rockville. "We meet periodically to discuss issues having to do with the religious activities of the Temple, services, timing of services, prayer books and what roles for the ages of children to give bar and bat mitzvahs," he said.
The couple also enjoys exercising. They used to do a lot of bicycling and when the weather's nice, they'll walk 4-5 miles on the C&O Canal on Sundays. "We start at Great Falls Tavern and walk down and back," he said.