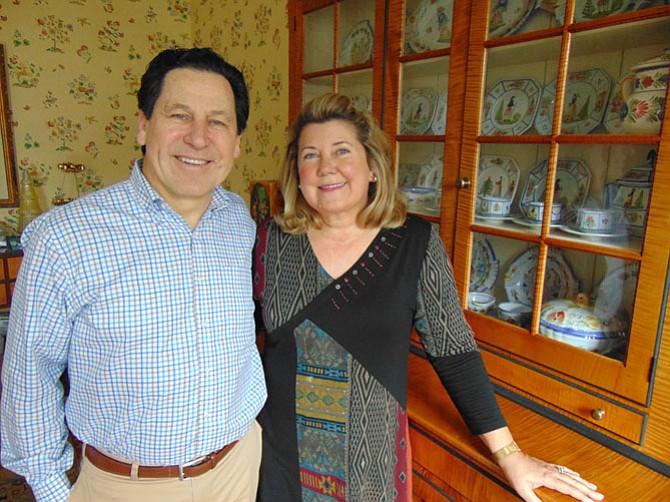 Becky Pugh, 57, and Dean Jabs, 63, of Bethesda (on the cusp of Potomac) were married 15 years ago in their cul-de-sac on Eagle Ridge Court with a tent in the back yard. Becky, the owner of Bone Jour Pet Boutique, a dog-grooming store in Bethesda, was a little late to the marriage table. When she met Dean, a plastic surgeon with Cosmetic Surgery Associates in Bethesda, he was already divorced.
"I was not going to get married because I had not met anyone that I respected or was attracted to," she said. But that changed when she met Dean. "When I met him, I was very surprised. One of the first things, he didn't frown when he saw my dogs jumping around, so that was the first plus. He's a very interesting guy, and he knew how to hang drywall. Besides being a surgeon, he was able to fix things," she said.
For Dean, the secret to a happy and successful marriage is respect and compromise, he said. "I think relationships are built one day at a time. You have to have attraction and once you have that to last, you have to respect that person and be willing to make compromises so that you're both happy."
The couple has three children: Hilary, 25, and Connor, 23, from Dean's first marriage, and Wren, 11, a fifth-grader who was adopted. "When I first met Becky, I needed someone who wasn't afraid of a family, and didn't want to ship them off; she moved right in and just became a great mom," he said.
Becky calls her husband "Mr. New Day" because she said he likes to do new things every day. "He's very positive, doesn't hold grudges, is interested in doing things," like skiing, golfing and scuba diving. In fact, there's even a huge golfing net installed in their living room for him to practice his golf swings. "He's always game. He loves our families together. He's very positive," she said.
Dean calls his wife "very creative, with a good sense of humor, very caring, and never ever negative. And also willing to have fun almost in a child-like manner, which is great," he said.
Before they were married, Dean had once been a customer at Bone Jour, but a friend of Becky named Julia Randall who tried to fix her up on dates, introduced him and they went out to dinner and hit it off. "And then he came to do the door, he liked NBA, he liked art, we went to dinner, and we haven't stopped," she said.
Added Dean: "We went to dinner and since then we never stopped seeing each other. It just clicked. It's great to have somebody who you have a physical, emotional and intellectual attraction to."
Originally from Arkansas, Becky studied art at the University of Arkansas. Dean was from Southern California and received a B.A. in pre-med from the University of Southern California; then a Ph.D. in immunology from the University of Illinois (Rush University); and then Columbia University for plastic surgery. He served active duty in the U.S. Army for three years.
In her spare time, Becky volunteers with animal welfare projects. Every Sunday after Thanksgiving, she has been active in the Pumpkins for Piggies program. She had gone to the Poplar Springs Animal Sanctuary, a 400-acre refuge in Poolesville, and she thought how nice it would be to give away pumpkins after Thanksgiving to feed to the pigs. "It's become a huge deal," she said. "They throw the pumpkins to the piggies."
Dean has done a couple of medical missions to Haiti, he said: "We go up into the hill country and treat underserved children with cleft lips, cleft palates and burns."