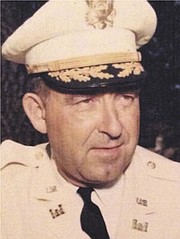 Richard J. "Doc" Hesse, 95, died January 22, 2017, in Northern Virginia. One of 11 children, he was born in Bow Valley, Neb., to Joseph and Mary (Wortmann) Hesse and grew up on a farm homesteaded by his grandfather, Anton Hesse. Young Richard attended a one-room schoolhouse in his early years and was an active parishioner of Sts. Peter and Paul Catholic Church in Bow Valley. He was always grateful for the scholarship he received which allowed him to attend Wayne State College. A subsequent appointment to the United States Military Academy at West Point (Class of 1945) launched his military career.
Col. Hesse served 30 years in the US Army Corps of Engineers. He received a Masters in Civil Engineering from Iowa State University in 1949 where he met his beloved wife and partner of 42 years, Ellen. During his career, Col. Hesse had assignments and commands in the United States, Germany, Italy and the Philippines. He served in World War II and the Korean and Vietnam conflicts. His distinguished career after the military included establishing the West Coast Regional Water Supply Authority in Florida and serving as a consulting engineer for over 20 years at internationally preeminent engineering firms. He was Chair of the US International Engineering Committee and served eight times as the US delegate to the International Federation of Consulting Engineers, and for many years on the Board of Governors of the Army and Navy Club of Washington, D.C.
He was a supportive and loving husband, father, grandfather, uncle, godfather and friend, devoted to his church, his family, and to his many friends and USMA classmates. He was also an avid gardener, competitive tennis player and superior bridge partner. He is survived by his five children, Katherine of Milton, Mass., Dan (Diane) of Kansas City, Mo., Maria (Sharon) of Gilbert, Ariz., Trish (Dennis) of Madison Township, Ohio, and Jeanne (David) of Great Falls, Va., three grandchildren, Kate, Ryan, and Evan, his brother Bud Hesse of Gravette, Ark.. and his sisters, Betty Foxhoven of Wynot, Neb. and Elsie Lauer of Hartington, Neb.
Visiting hours will be held from 2 to 5 p.m. on Sunday, June 25, 2017 at the Murphy Funeral Home, 1102 W. Broad Street, Falls Church. A funeral mass will be held on June 26, 2017, at the Old Post Chapel at Fort Myer followed by interment with full military honors at Arlington National Cemetery.
In lieu of flowers, contributions may be made to the Richard Hesse Scholarship Fund at the Wynot Education Foundation, P.O. Box 2, Wynot, NE 68792 (www.wynotpublicschools.org) or to The Long Gray Line Fund at www.westpointaog.org.