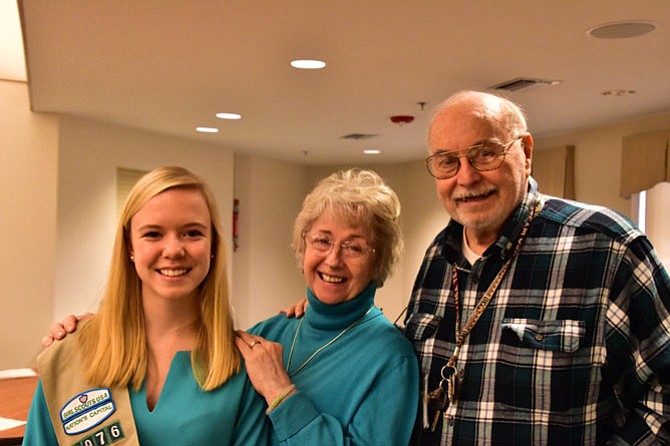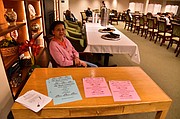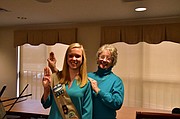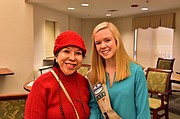 Caroline Brunner, a junior at McLean High School, looked on approvingly as a fellow band member performed a piece from Chopin on the piano.
Her concerts at Lewinsville Retirement Residences may be earning her a Girl Scout Gold Award — the Girl Scouts' equivalent to the eagle scout award, but she's also bringing smiles to the elderly each month with the help of her band mates.
She organized the Music Connection concert at Lewinsville Retirement Residences on Sunday with the help of May Al-Barzinji, 37, the resident services manager.
"It was amazing, Caroline was very professional for a young girl. She did an incredible job," said Al-Barzinji.
Music Connection is a program Brunner started for her Girl Scout Gold Award. She aims to bring together the youth and the elderly in the community through music, and earn this distinguished honor through this service project.
Her mother, Carol Brunner, 50, who works in association management is proud of her daughter for being so active in the community.
"We have lived here for 12 years, a long time, and this is a nice opportunity for her to manage a project working with adults and kids and making sure it happens," she said.
The project has taught Brunner about fundraising, and she has used her money from baby-sitting to pay for her own website, and make it sustainable.
Sunday's concert was the third one that Brunner has organized.
Cliff Lin, 16, a musician and student. has been playing the guitar for four years. He is in the jazz ensemble and is a junior at McLean High School.
"I like doing this kind of stuff, playing brings smiles to the residents. I know it might sound cheesy but it's true," he said.
Tina Hashemi, 18, a student at McLean High agrees that it is a nice atmosphere to perform in. "We sang a song that we thought they might know, 'Let's Call The Whole Thing Off' by George Gershwin," she said. "They were very responsive."
Yet, however excited the high schoolers were to be performing a community service, the residents at the Lewinsville Retirement home were even more overjoyed to be in the audience.
"We always welcome groups for entertainment," said Jay Edwards, 82, a computer consultant who has lived at the retirement home for five years. Edwards mentioned that he too was an Eagle Scout.
Brunner created a website, musicconnectionproject.org, where anyone can sign up to participate as a volunteer.
Brunner, who plays the flute in the band at McLean High School, aimed to perform a wide variety of songs with help from people from her classes.
"I did start the project for the Gold Award and now I really like it. After, I will continue to do it," said Brunner. Even after she graduates from high school and goes to pursue a degree in business administration, she expects the program to go on sustaining itself through volunteer efforts.
"The people who live here are pleased to have live music," said Jane Gardner, 72, school teacher, resident, and former Girl Scout herself. "It's so much better than recorded music."