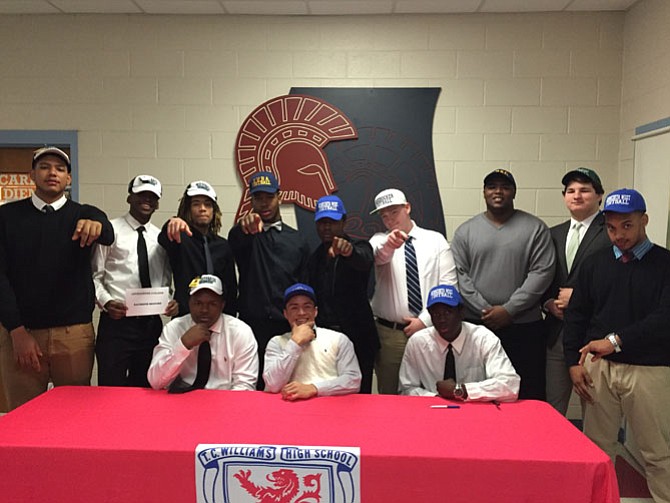 After a year of hard work and last minute victories, T.C. Williams High School Football Team made it to the playoffs for the second time in the last 26 years. Though they were eliminated in the first round, the players' drive and determination left an impression on colleges. On Feb. 1, 12 students from TC's football team signed on to play with college teams across the country, many of them winning scholarships to help pay for their education.
"It feels good," said Teyan Williams, attending Livingstone College with a full ride scholarship. "I love basketball, but size carried me through for football. And now I have the opportunity to go to college. Education first: you never know what could happen. You could get hurt, so I need to use this opportunity to get a good education."
Williams was a linebacker and full-back on the team. Williams doesn't know what he's going to study yet, but said he wanted to work in a field that involves computers.
"I'm so proud," said Williams' mother, Ayana Thompson. "It's a four hour drive, and we've got it planned. We're excited he's going. When I found out about the scholarship I was about to cry. I had to hold it in. I am such a proud parent. He gives it everything when he's on the field."
Many of the parents and staff credited Coach James Longerbeam for pushing the students to do their best, both on the field and off.
"We're very proud," said Principal Dr. Jesse Dingle. "It's nice that they continue to play football, but the most important thing is getting an education and these scholarships. I also credit the leadership displayed by the coaching staff, which placed a renewed emphasis on character, teamwork, and Titan-pride."
"To be here less than a year and get all these kids scholarships?" said City Councilman Willie Bailey, "He's a phenomenal guy. He really cares about these students."
"It's easy when you have good kids," said Longerbeam.
At the signing, teammates congratulated each other and reflected on their historic season.
"All the hard work finally paid off," said Benton Lewis, attending Minnesota West Community Technical College to study marketing and business. "We have a real chance to better ourselves."
This year was the second time in the last 26 years that T.C. Williams' football team made it into the playoffs.
"We were elated," said Lewis. "This hasn't happened in a long time. Everybody here has known each other basically since elementary school. We really did this together."
Even off the field, the players are a team. After their group picture, they moved through the crowd of parents and staff together, greeting each other's families.
"We've been working towards this day," said Garrett Roach, "We've been really looking forward to this for a long time. I'm just as excited for them as I am for myself."
Roach will be attending the South Dakota School of Mines and Technology to study engineering. He found out on Monday that he got into the school and on the football team.
"I came up from Tampa on short notice," said his father, Dennis Roach. "He said, 'Dad, I'm signing tomorrow' so I got the first flight up here."
"We're so proud," said Nancy Roach, his mother. "He's worked so hard for this. He's been persistent, and that's what gets you places."
Nancy Roach said that persistence was visible in the team throughout the season. Garrett Roach and other players repeatedly looked back on their game against West Potomac High School, where West Potomac was ahead and the clock was winding down. With a last minute touchdown and two point conversion, TC turned the game around and won. Later, in the first round of the playoffs, West Potomac had their revenge and eliminated TC in a 26-0 game, but the players and parents still reflect fondly on that rousing last minute win.
"They stood up and didn't give up," said Nancy Roach. "Other teams get down and they give up. This team never gave up. They would fight to the very end."