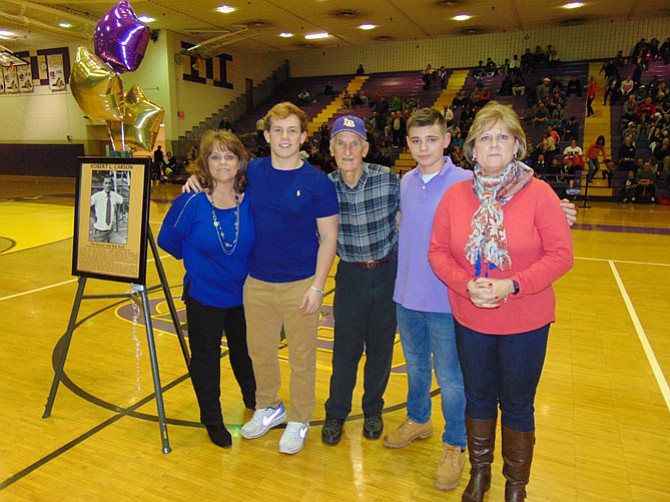 In a basketball halftime ceremony that included family and School Board member Ilryong Moon, the Lake Braddock Secondary School gym was rededicated in honor of Robert Carson, age 83, of Springfield who was the school's first Director of Student Activities from 1973 to 1988. The gym was first named after him in 1988 when he retired, and now Carson's name is embedded above the entrance to the gym and it will be on the floor.
"I think it's great. It's a great honor. I'm not used to this. I was here for 16 years," said Carson.
Before coming to Lake Braddock where he built the program from scratch, Carson served as the DSA at Edison High School where he was Fairfax County's first DSA and remains the youngest hired in its history. Carson's two grandsons, Tyler and Joshua Wines, are athletes at Lake Braddock.
During his time at Lake Braddock, the sports teams won 42 District tournaments, 25 regional tournaments and 21 state titles. Carson is the only DSA to be selected twice as the Virginia Athletic Director of the Year. He is in the Edison High Hall of Fame and was inducted to the Virginia High School Hall of Fame in 1997.
"I feel this is long over due," said Leah Esper, president of the Lake Braddock Athletic Booster's Club. "Being the first DSA for Lake Braddock, Mr. Carson deserves his name to be on the court. It's a great honor to have the first DSA in the entire county be the first DSA at Lake Braddock. So I think that he deserves the recognition."
"My sister and I are beyond proud of my dad for the things he's done for the county," said his daughter Juliane Carson Wines. "People, when they hear his name, everybody has a story to tell; it's always positive. And the thing I loved most about my dad was he loved every kid. There was no kid that he didn't love that was here at the school. And to me, that's just a testament to his heart."
His other daughter Susan Jones added: "He dedicated his life to Fairfax County. And he's always been supportive, as a daughter, whether I played sports, and he's a wonderful man and I'm very proud and this is a great honor."