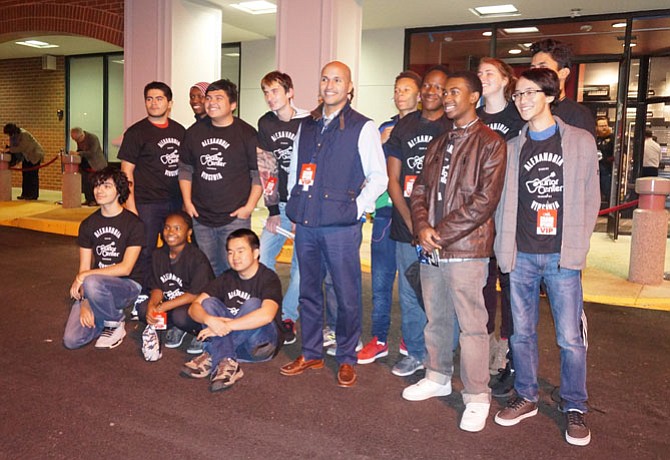 Alexandria — Bruce Shepard stood alone under a parking lot street light taking it all in — the crowds, the music, the unusually balmy January weather. After a year-and-a-half of planning, Jan. 12 was opening night for the Guitar Center's newest location in the Alexandria Commons Shopping Center and Shepard
was instrumental in making it happen.
"This is a great location for us," said Shepard, a New York City corporate real estate expert who scouts potential locations for the music store retailer. "We did a lot of research and demographic analysis and decided that Alexandria would be a good fit with our other stores in the Mid-Atlantic."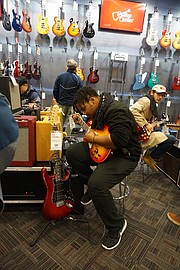 Hundreds of people from around the region waited in line to enter the store. With record-setting temperatures in the 70s, no one complained as musicians from T.C. Williams High School and the Blue Tips Band entertained the crowd and free raffle tickets were handed out for dozens of prizes that included gift cards, a PA system, musical accessories and a Gibson Les Paul Studio electric guitar.
"We've spent so much money at Guitar Center over the years it's exciting to finally win something," said Alexandria resident Mary Beth Buchholtz, who won a PA system.
Inside was controlled chaos as everyone, young and old, became a kid in a candy store trying out instruments ranging from guitars to keyboards to drums and DJ equipment.
"This is probably the liveliest opening event I've seen in my four years of living in Alexandria," said Jeff Peterson, president and owner of Minuteman Press. "The Guitar Center did a great job of promoting this."
Guitar Center bills itself as "home to the world's largest selection of popular guitars, basses, amplifiers, keyboards, workstations, drums, percussion, microphones, PA systems, DJ equipment, stage lighting, recording software, studio gear and more."
Music lessons are available at the Alexandria location along with a selection of vinyl records and sheet music for various instruments.
As Shepard was savoring the evening, he paused briefly to look ahead to his next project.
"In two months we'll be opening our next location in Silver Spring," said Shepard, who has been with Guitar Center for 17 years. "But tonight it's all about Alexandria. This is a great market for retail and it's good to see all the energy and excitement here tonight."
Guitar Center is located at 3155 B Duke St. in the Alexandria Commons Shopping Center. For hours or more information, visit www.guitarcenter.com or call 703-370-6240.