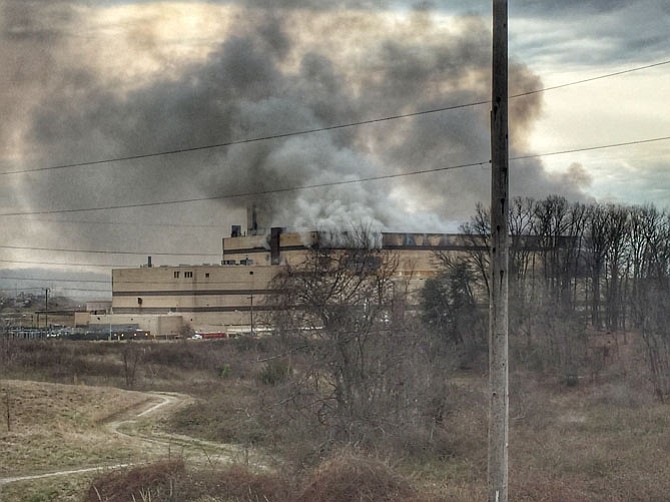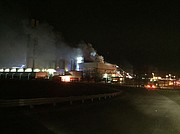 A fire started within the Covanta Fairfax Waste to Energy Facility in the 9800 block of Furnace Road in Lorton Thursday evening Feb. 2 and smoldered through the weekend.
As of Monday, Fairfax County Fire and Rescue spokesperson Ashley Hildebrandt said in an email that fire officials were "still there and going through all the trash making sure all the fire had been extinguished."
Fire and Rescue said units were first dispatched to the fire around 9:09 p.m. Thursday night. Fire Station 19 units arrived on the scene first and saw "a significant amount of fire and smoke coming from the rear and roof of a four-story building," according to a release from the department.
First responders immediately called in a second alarm for help to contain and extinguish the fire.
All the employees of the facility had escaped safely, Fire and Rescue said, and there were no injuries to either civilians or firefighters reported.
Though the exact cause of the fire is still being investigated, the fire reportedly started on the building's tipping floor and spread to a full holding pit. Due to the depth of the fire in the facility, it has taken several days to fully extinguish.
The Friday after the blaze started, Fire and Rescue shared a message from the Virginia Department of Environmental Quality that there should be no concern for air quality, since all that was burning was "ordinary household trash."
Covanta spokesperson James Regan said in an email that the Lorton facility is closed, but that they hope to restart operations in the coming weeks after repairs are completed.
"Assessment of the damage is ongoing," Regan said, "but we do know that the primary facility systems are intact, with damage contained to the waste storage pit and roof."
Regan said waste from Fairfax County has already been diverted to alternate facilities and that there should not be any impact to waste collection for residents.
Supervisor Dan Storck (D-Mount Vernon) referenced the fire in his Feb. 4 Mount Vernon town meeting, saying that he was "very unhappy" about it.
Storck said there should be other prevention measures in place at the aging plant.
"We should not have this kind of air and water pollution," he said.
The Covanta Fairfax facility was opened in June 1990 and while open processes 3,000 tons of paste per day, according to the Covanta website. The facility generates and sells up to 80 megawatts of energy -- enough, the company says, to power more than 80,000 homes.