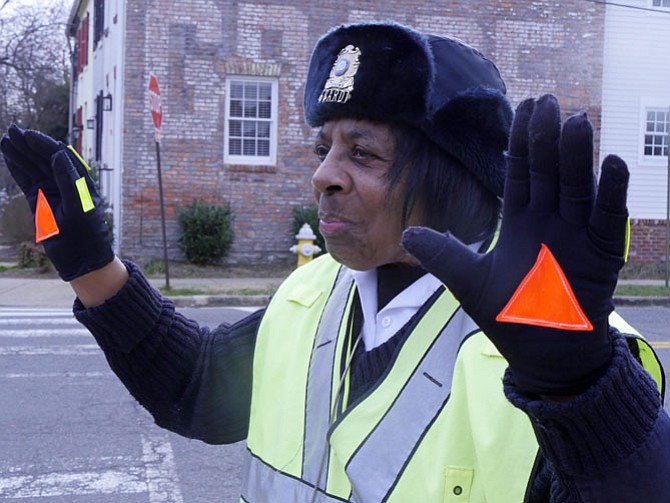 Alexandria — Cora Reed steps out into the intersection of S. Asaph and Gibbon and holds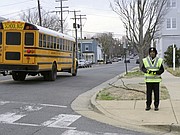 her arms up high. "You got to do that so they can see you." Reed has been a school crossing guard for the Alexandria Public Schools for nearly 44 years. She started over on Beauregard "at … it's been so long I can't remember." Then she was at Jefferson-Houston Elementary School for a number of years before coming to her present spot at Lyles-Crouch Elementary School.
Reed says she had a husband who didn't want her to work. She had some friends who were crossing guards and they urged her to try it. She said her husband didn't mind. "He was a good provider, and I was a good wife."
Now Reed works from 7:15 to 8:05 in the morning and 2:25-3:05 in the afternoon. She says she really has a lot of traffic. "Some people say they don't see you. With all the lime green you got on that's hard to believe. Everyone is in a hurry. These cars try to get a jump start across the street so you have to be alert." Reed continues "some people try to sneak up on you, but when you have your hand up, it means don't go until I say so." And when it gets close to 8 a.m. they all spurt for the front door so the kids aren't tardy."
Reed views herself as a shield. She says that often parents walk across the street with their children behind them. The child may drop something in the center of the street and stop to pick it up. "Praise God; no one has ever been hit. I try to take charge." Reed says, "A lot of parents thank you for what you do. I try to keep them moving and not standing on the corner."
Despite the nearly 70-degree day in February Reed is wearing a fur-lined hat, two heavy sweaters and tights under her pants. A woman crosses the walk with a tiny dog on a leash. "How are you today?" A regular, she comments. Reed says the women school crossing guards used to wear skirts. "That's been some years ago. But then they changed to pants; that's what we all wanted. She says she keeps a raincoat and rain hat and heavy coat in her car. "I call it my house on wheels."
Reed doesn't know all of the names at her crosswalk yet this year but she knew them at the end of last year. She enjoys making a new friend. "I had a little baby last year who was very shy. Then in time she started to look for me. And then she started waving at me across the street." Reed says if she misses a day people want to know where she has been.
She steps into the street, blows a loud whistle as a mother and three children cross on the opposite street.
A taxi stops in the crosswalk and rolls down the window. "Hi David, how's your mom? Tell her I said hello." Reed says she sees kids wearing lots of shorts these days, even in the winter. And kids used to carry their books but now they fill a backpack with heavy books. "It's a wonder their backs aren't messed up."
Reed says there was an awards ceremony last year where she was honored for her 43 years of service. When they got to her, "they said they saved the best for last," and everyone got up and clapped. She had longer service than anyone. "You wouldn't believe the years tick away like that."