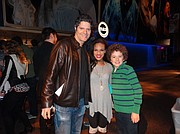 Forestville Elementary Student Tyler Bowman, 11, just made his acting debut at the Arena Stage at the Mead Center for American Theater in Washington, D.C.
He will be playing his new role in "Watch on the Rhine" through March 5 at the theater's Fichandler Stage.
This is Bowman's third major theater role, having previously performed at Arlington's Signature Theater in Disney's "Freaky Friday" and at the Kennedy Center in the Washington National Opera's "Lost in the Stars."
When Bowman is not acting, he tries his best to be a normal kid. He loves going to Dave & Buster's to play the arcade games and is a proud member of Boy Scout Troop 1128 in Vienna. At his mother Alison's insistence, he also takes piano lessons, which he says is more of a chore.
But he is not like his classmates.
Bowman has performed in short films and commercials for Discovery, Capital One, the Virginia Department of Health and for former First Lady Michelle Obama's "Let's Move!" campaign.
His latest role in "Watch on the Rhine" is set in 1940 during the brink of the United States involvement in World War II. German Kurt Müller and his American-born wife Sara and their three children seek asylum in the suburbs of Washington, D.C., after spending 17 years in Europe, where Kurt has engaged in an underground resistance to the rising Nazi regime.
Bowman plays Bodo Müller, the youngest of the children.
The Connection talked with the sixth-grader and his mother on Monday, Jan. 30, just five days before the play's premiere.
What inspired you to be a model and an actor?
Tyler: A friend at our church [Andrew Chapel United Methodist Church in Vienna] named Patti kept asking me to be an actor and we kept saying no. We finally did it and it turned out to be a success.
Alison: She kept bugging us and saying that we needed to get him into modeling. We kept saying no. She found an audition and we said, 'You know what, if we do this, will you leave us alone about it?' and she said, 'Sure.' And then he ended up going to this event in Florida where he won best overall child model out of like 1,000 kids. He was only five years old at the time.
You were sort of pushed into it and you were good at it, but what do you like about acting?
T: A lot of things. I like the opportunity to go in front of people in shows. I also like having the chance to relate to life in a different way as a different person.
Do you think you're going to want to make this a career for yourself?
T: Yes, but I might also want to be a CEO in a company because of my dad.
A: He's looking to be an entrepreneur like his dad … I think Tyler thinks it's pretty cool, but he may not appreciate all of the work that it takes.
What kind of hobbies do you have and how do you make time for them while you pursue acting?
T: I do Boy Scouts mainly, but I like climbing, camping, archery and traveling. I am rank Tenderfoot [in Troop 1128 in Vienna]. I like all of the cool activities and things we get to do on camping trips.
What do your friends think about your acting?
T: They come to most of my shows. There's a show in our school and I feel like I've motivated them to be an actor in that show. It's Alice in Wonderland and I plan on going to see them.
A: The auditions just happened so they're going to send out an announcement soon.
What made you audition for your latest role and what makes it more challenging than your previous ones?
T: My manager suggested it. Bodo speaks different because his parents are from different countries. He mixes up his English. It's kind of hard to remember that and he's a little bit more serious [than my previous roles]. In the play, my first language is German. My dad was born in Germany and my mom was born in America. It's during hard times in World War II.
A: At 11, it's a little hard for him to relate to what we see happening around us like right now, which makes the play so relevant. I didn't think I would have been talking to my son about fascism and dictatorships and authoritarianism. They haven't gotten to WWII in their history yet.
What kind of struggles does your character go through?
T: Most of the time he doesn't go through any of the bad things because we're upstairs when the fight scenes happen and all of the bad stuff happens. He does notice it at the end of the play. Also, my brother and sister bug me a lot and tease me. I come right back at them.
What was it like to shoot a commercial with Michelle Obama?
T: Amazing. It was the best experience I've had doing a commercial. Meeting the First Lady in the White House is pretty much a big deal. Just being in the White House is a great opportunity.
Is there any actor that you look up to or do you have a favorite show?
T: Star Wars. That's what I would love to do because my mom is a big Star Wars fan.
A: It would be pretty cool if he got a Star Wars thing.
Have you seen the latest Star Wars movie?
T: Yeah, we saw it in 4-D. It was really awesome. The seat moves while you're watching the screen.
A: You get 3-D glasses and you get a seat that moves. During the battle scenes in space, you can feel it in your chair. For a Star Wars geek like me, it was pretty cool.
Are you getting paid for your work and how do you and your family plan to spend it?
T: A third of it goes to long-term savings, a third goes to charity that I choose and I get to spend a third. What I would spend for something special is for college and an arcade machine. I like arcades and I like playing on them and I thought playing on my own arcade machine would make me want to go less. My mom always says, 'No we got to do it another day.'
A: He always wants to go to Dave & Buster's and doesn't like it when I say that it's expensive.
Have you saved up enough for a machine yet?
T: No, but I'm hoping in the future I will soon.
A: I'm hoping not.
T: Either the claw machine or the Quick Drop game. It's where these tubes go around in a circle and you have to get the balls into the tube in a certain amount of time. And if you get all of them in without any falling out, you get the jackpot.
Which charities do you like support?
T: Mainly, I support the church. That's where most of mine goes. And also Signature. Another one would be Arena.
A: He normally gives his donation to the church … this year he chose to give his donation to Signature Theater because that's where he did "Freaky Friday" and I think probably when he's done with the show at Arena he will make his donation there to give back. I've tried to instill in him to be philanthropic, especially for organizations that support your career. You need to give back.
Is it tough pursuing your acting in Great Falls?
T: There were some managers who wanted me to move to New York, but my family and I like it here, so I didn't want to leave all of our friends just for my career.
A: Sometimes he'll get a call from his manager saying, 'We need you in New York tomorrow for an audition.' Then you have to drop everything and get up to New York. It's fun, but for the parents, it's a little stressful.
How do you keep up with school, Boy Scouts and acting? Does it get tough sometimes?
T: Yeah, but my teachers are good about it. I just want to thank my teachers Ms. Conner, Ms. Donlon and Ms. Croog for supporting me through all of this. And I want to acknowledge Stuart because he helps deliver all of my homework. He's my neighbor and we're both in Ms. Conner's class.
A: Stuart's his best friend. They've known each other since kindergarten and have been best friends ever since then.
How has being bilingual and knowing Spanish helped you in your acting career?
T: I haven't used it yet, but I'm sure it will help later throughout the years. I've been doing the Spanish program at Forestville called ChiCeLaCu since I was in second grade.
A: His sister [Carly, 5] is adopted from Columbia, so we want to make sure that he and his sister know her native language very well. I grew up in Mexico, so I speak Spanish and my whole family speaks Spanish. Then when we ended up adopting from Columbia, that's when we decided that Tyler really needed to learn the language. I think he was six, so only in first grade when we brought her home.
Are you auditioning for any other shows or have any other plans in mind?
T: No, but I just auditioned for a movie for Disney. We don't know the name or know anything about it, but it's a movie.
A: He got a call from his manager and the only information that she had was it's a movie being done by Disney. We only know the name of the casting director. It was a phantom audition.
More like this story