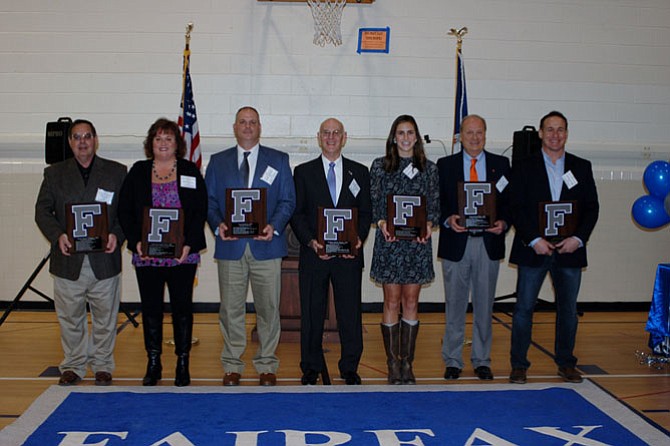 The Fairfax High School Athletic Hall of Fame inducted seven new members on January 17, 2017. The new members were welcomed by Fairfax High School Principal David Goldfarb and Director of Student Activities Nancy Melnick during a banquet at the school with well over 100 attendees.
David Bedwell, class of 1989, was a 1st team All-Potomac District and All-Northern Region, 2nd team Washington Post All-Met and 3rd team All-State quarterback for the Rebels during their 1988 campaign. He went on to play four years of varsity football at James Madison University and since 2000 has been the head football coach at L.C. Byrd High School in Richmond, where his teams have won 3 state titles, 6 Region championships and 16 District titles. His overall coaching record stands at 203-36.

Richard "Moon" Ducote, class of 1968, was an outstanding football player and wrestler. He played every down of every game during his junior and senior seasons on the gridiron, performing at linebacker on defense and in the backfield on offense. He was named to the 1st team All-District, Suburban Virginia and All-Met squads in 1967. In addition, Moon was unbeaten on the wrestling mats during the 1967-68 season. Moon went on to attend the United States Military Academy at West Point, where he graduated with the highest GPA in his major in the class of 1972. Father of 9, he and his wife are retired and living in the Atlanta area.

Emily Ferguson, class of 2008, is the youngest member of the FHS HOF. She excelled at every sprint distance in swimming and led her team to a Region and a State championship during her senior year when she was also individual Region champion in both the 50 meter and 200 meter events. She was a state runner-up in the 50 meter freestyle and earned High School All-American honors in the event. Emily went on to swim at Virginia Tech for 4 years and qualified for the Olympic trials in 2012. Currently Emily is a special ed teacher at Westfield HS and coaches the summer swim team at Hayden Village, her team as an up-and-coming youth.

Kathy McCaughey-Eker, class of 1980, earned 10 varsity letters at Fairfax, competing in softball (her primary sport), basketball, tennis and track. She was named to the 1st team All-District softball squads 3 times, twice to all Northern Region teams and once to the All-Met team, in 1980, during which year she was also named All-District in basketball. Kathy attended Mary Washington College, where she played varsity basketball for 3 years and was also named an All-American in cross country and indoor and outdoor track twice in each sport.

Justin Potter, class of 1998, was a 1st team All-District and 2nd team All-Region center in football during his senior year, but it was in wrestling that he truly excelled. He finished with a 4-year record of 102-23, won 2 District and 1 Region title and capped things off with a 39-1 record and a State championship at 215 pounds during his senior year while being named as a 1st team All-Met. Immediately after graduation from Fairfax, Justin became a member of the United States Marine Corps, where he is currently a Gunnery Sergeant and has served 8 tours in Iraq, Afghanistan and Africa.

Craig White, class of 1968, was a standout in both football and baseball. He was named 1st team All-District in 1967 as a defensive back and is also the best punter in school history, booming kicks for an average of nearly 44 yards each time. Craig was also one of the best baseball players ever to walk the halls at Fairfax. He led the team in hitting during his final 2 years and was named All-District in his final year. Craig accepted a 4-year athletic scholarship to Clemson University and earned a varsity letter each year. He topped off his collegiate career by being named 1973 ACC player of the year and Honorable Mention Baseball All-America. He was inducted Clemson's Hall of Fame in 1988. Craig was drafted by major league teams on 2 separate occasions and spent the balance of 1973 as a N.Y. Yankee farmhand.

Davey Williams, also class of 1968, earned 3 letters each in track, football and wrestling, winning numerous All-District and All-Met awards as a running back and a defensive lineman. In wrestling, he was a 2-time region runner-up, a 3rd place finisher at the state level and a state runner-up, all at 180 lbs. Davey is a graduate of the University of Minnesota and is retired and living in St. Mary's County, MD after a long career as a computer scientist with the U.S. Navy.
The Fairfax High School Athletic Hall of Fame now numbers 52 members. If you would like to nominate someone for consideration for entry into the Hall, you may download admission criteria and a nomination form from the Fairfax High School Athletic department website
http://www.fairfaxhighsports.org/ Your participation in the nomination process is encouraged and welcomed and you are requested to provide supporting documentation with your nomination.