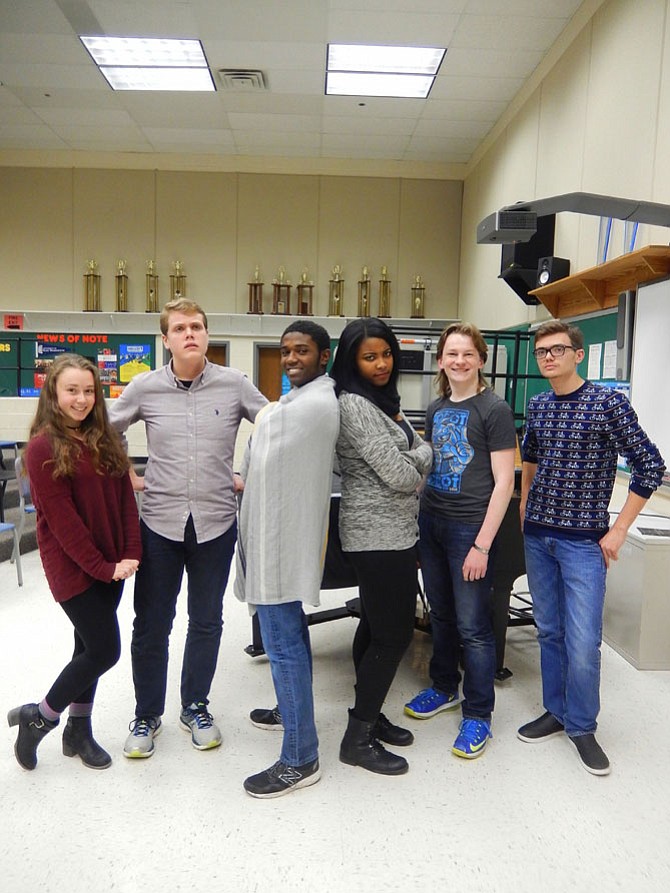 The characters in cartoonist Charles Schultz's "Peanuts" comic strip have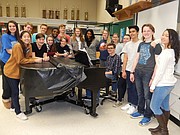 delighted fans for decades. So it's a good bet that Centreville High's production of "You're a Good Man, Charlie Brown," will resonate with children and adults alike.
Show times are Thursday, Friday, Saturday, Feb. 9, 10 and 11, at 7:30 p.m.; and Saturday-Sunday, Feb. 11-12, at 3 p.m. Tickets are $12 at the door. The musical features a cast and crew of nearly 30, plus a live combo including the school's director of guitar studies, Bill Burke.
"We're doing the original-release version from the 1960s," said Theater Director Mike Hudson. "It's appropriate for children; but since 'Peanuts' was intended as a satire on adult life, the humor will appeal to all ages. The show was written for six people, but we added 13 more for an ensemble to portray the other kids from school. "
Choral Director Lynne Babcock is the musical's choral director, too, and former Lake Braddock Secondary Music Director Suzie McCarthy choreographed the dances and will conduct the combo. And three Wildcat Music Department members are joining Centreville's theater students to sing some of the songs.
Hudson said rehearsals are going well, and he's extremely proud of his actors. "It's been a surprising cast because we thought we were casting the best actors we possibly could," he said. "But we didn't realize how truly talented they were until they got on the stage."
A professional costumer is designing the costumes so the actors will look like their counterparts in the comic strip. And the set will be decorated in bright, primary colors. "We're bracketing the action onstage with two, giant, comic-strip blocks," said Hudson. "And, of course, there'll be Snoopy's doghouse, trees and Lucy's psychiatry stand. The scenes take place in summer and early fall in the neighborhood and at school."
"The characters are identifiable to multiple generations, so we hope for a good community turnout," he continued. "Children will enjoy the characters, and teens and adults will remember the actions in the story taking place in their own lives or watching Charlie Brown and his friends on TV or in the movies."
Playing the title role is junior Andrew Lindgren. "Charlie Brown is very sincere, socially awkward and not confident," said Lindgren. "But he has good intentions and always tries his hardest to do what's right. Things don't always turn out well for him, but he keeps going."
Excited about his part, Lindgren said, "Most of my characters have been angry or shady ones, so it's cool to try a new style of acting. It's a lot of work, but fun, being the lead. And I like playing a character who feels so human." His favorite song is "The Doctor is In," sung by Lucy, because "It's an emotional moment when Charlie's telling all his problems and learning to deal with them."
Lindgren said the show's relatable to the audience because it's a "down-to-earth slice of life" – a series of vignettes of the characters going through everyday situations, conflicts and problems [common to everybody]. So, he said, "Everyone will find a kid they connect with and a problem they identify with, themselves."
Senior Kourtni McNeil portrays Lucy. "She's very crabby, strong-willed and opinionated," said McNeil. "She thinks she knows everything and says things with confidence, even if she knows she's wrong. She's also bossy and gives advice to all her friends and tells people what to do."
"She reminds me of myself when I was a kid," continued McNeil. "I talked that way to my brother and told people what to do. And I was a loud child, too." She likes the "Book Report" number because "it has so many layers of harmony and the entire cast sings it together. The kids are making excuses why they shouldn't do their book reports."
Saying all the characters are easily recognizable as particular types of children — such as the rule-follower, the mopey one and the person who overthinks everything — McNeil said the audience will also enjoy how the show makes fun of adults. "The set's going to be really cool, fun and colorful," she added. "And people will love the upbeat songs and dances."
Playing Patty is junior Margot Vanyan. "She's naïve and energetic and represents the show's innocence," said Vanyan. "But she's also sassy, funny, cute and bubbly and a girly-girl."
She enjoys this character because it lets her pretend she's back in fourth grade. "Patty's hilarious and says all these really random things," said Vanyan. "And she's Lucy's best friend so I get to interact with Kourtni a lot."
She said the show's clean humor and family-friendly appeal will resonate with the audience. And, added Vanyan, "They'll especially enjoy our Snoopy because he's portrayed as a charming character in a humorous way."
Playing Charlie Brown's dog Snoopy is senior Peter Waldmiller. "He's an overdramatic dog who acts like a sophisticated human," said Waldmiller. "He has an interesting view of life and is very imaginative. And he doesn't have any responsibilities, so he just lives life as it comes."
He played this role in two other school productions and said it's fun because "Snoopy's so over-the-top, I can do whatever I want and am not bound by what a human would be. He's hyper and all over the place. I'm also a dog-lover in real life and can howl pretty well."
Waldmiller's favorite song is "Suppertime," sung by Snoopy and the ensemble. "It's a lot of fun because Snoopy goes crazy about food and creates an entire, Broadway-musical-like song around suppertime," he said; the audience will like the shows energy and "lighthearted innocence" because all the characters are 5-6 years old. "There are many funny moments," said Waldmiller. "And the show offers a whole lot of laughs for all age ranges."
Senior Kyree Parker portrays Linus. "He's intelligent, but doesn't know it, so he just acts like the other kids," said Parker. "He loves his blanket and can't live without it. He's also a deep thinker, is courteous, follows rules and doesn't like upsetting people."
Parker carried a blanket around school for two weeks to get into character and said this part makes him think on a whole, different level and be more inquisitive. He said the show's so funny that "I laugh all the time, even though I know all the lines. And the unique and creative dances are a blast to do, so they'll look fantastic to the audience."
Playing Schroeder is sophomore Ben Stallard, who's in both the Theater and Choral departments. "Shroeder's full of himself and thinks everything he does is the most important thing ever done," said Stallard. "The world's a stage and everything is art to him. He takes his piano-playing seriously and hates being interrupted by Lucy."
Stallard especially likes his character's monologue where he insults Lucy for two minutes straight. "I also get to do some physical comedy," he said. "And in the 'Book Report' song, I get to sing really low bass notes."
"The show's choreography is amazing, the songs are entertaining and some are very funny," he continued. "There are so many touching moments, and the show leaves you with a warm, fuzzy feeling that makes you remember what's good about the world."