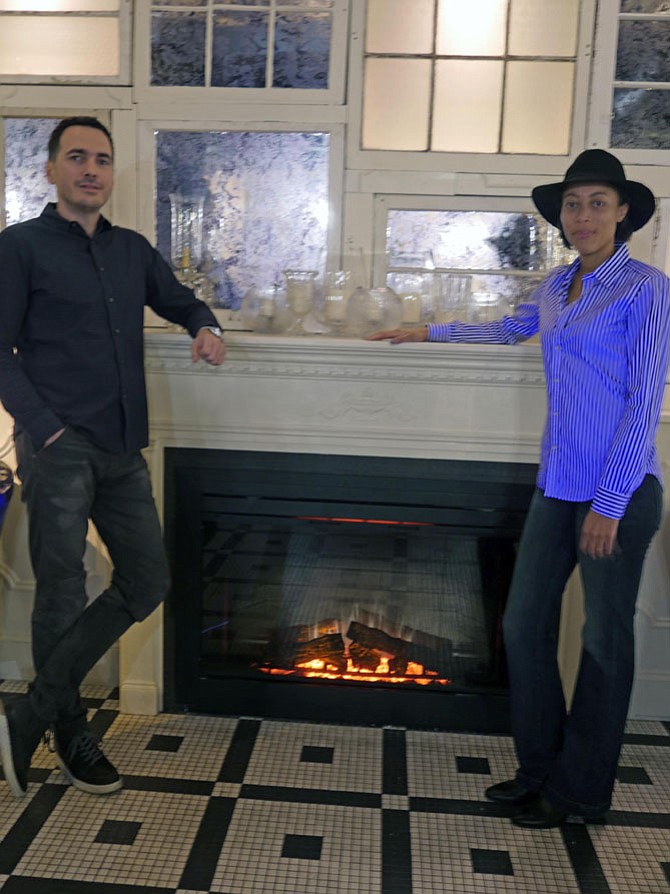 Everyone can find their grandmother at BABA's according to Ivan Iricanin, the owner of the new restaurant on Wilson Boulevard scheduled to open Feb. 1. His wife Nya Gill, who designed the restaurant said, "You know your grandmother brings back a certain feeling."
Iricanin says he wants to create a neighborhood place that fits in with what is already there and as a result it will be open from 8 a.m.-1 a.m. on weekdays and 2 a.m. on the weekends. Brunch will be served until 3 p.m., "but not like a regular brunch with egg everything." He says it will offer three different oatmeal creations such as the Tiramisu Oatmeal with espresso mascarpone, organic almond butter, dark chocolate granola, and prunes with maple syrup. Or a "make your own oatmeal bar. Almond milk, butter, a little honey and shaved almonds — that's my thing." If you don't want the healthy option, you can get other items like eggs on toast with organic bacon and cheese. At 11 a.m. BABA transitions into sandwiches and lunch fare such as BABA's bowl of several kinds of beans with ginger syrup, Parmesan cheese, and charcoal-grilled kale.
This restaurant is not specifically Balkan unlike Ambar, its sister restaurant which opened in the space above in August. "It's more European but we still try to stay with what we know." The dinner theme is small plates in three categories including meat, vegetables and seafood such as the Seafood Sandwich, open faced topped with seafood, sweetcorn and asparagus salad and Sriracha-tarragon mayonnaise.
Glasses hang in a rack over the bar for the cocktail hour that begins at 4 p.m. "We have a mixology bar with different antique glasses for each drink," Iricanin said. "Nya found the glasses. Nya Is a hunter."
She added, "It's a sport for me."
Iricanin says he has brought in Esteban Ordonez with an international reputation as a mixology consultant. The cocktail list includes names like Serbian Sombrero, Yugo Sidecar and Monastery. One of the cocktails is Beograd Noću made with Rye Whiskey, Fernet and Gorki List Blend, Dessert Wine and Orange Bitters — strong, on the bitter side. "The raspberry Rakia is bound to be a favorite at lunch. It takes 25 kilos of raspberries to make one bottle. You've got to like it."
Gill, who recently graduated with an MFA degree in interior architecture and design from George Washington University, has created three zones in BABA based on the concept of use. She explains it is so that people won't be crowded in on busy weekends. The brightly lit bar is designed with a lot of wood to bridge between the morning coffee and the evening cocktails. "This raised area is the VIP zone where people can gather for special events." And the fireplace zone is cozy with a working fireplace and bigger stuffed upholstery. The ceiling is covered with salvaged vintage windows as a response to the location in a basement. Nye said, "Since we didn't have windows, I created them on the ceiling. They are all original blown glass that I found in a salvage yard."
Iricanin said, "We always knew we wanted to do this but wanted to focus on the opening of Ambar upstairs and then turn to BABA. They worked on the concept. "I grew up with my grandmother. She took care of me." He continued, "I go there hungry, I get food. I go sad, I get out happy. And she made a good baklava, a big tray." His arms stretch wide. "And I always ate half of it. For a whole day I was on fire. She made an amazing white bean stew with smoked ribs." He added, "We want to bring back that grandmother memory. Instead of fine dining, we call it fun dining, just like my grandmother."