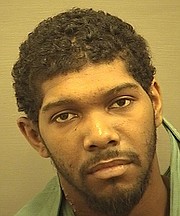 It was a frantic scene. Standing in the dimly lit room where Dasheira Barksdale had just been murdered, police say the struggle to detain an armed and suicidal Melvin Williams nearly ended with his death.
At a preliminary hearing on Dec. 12 for Williams, charged with the murder of Barksdale, the details of the Sept. 14 murder came out as police who responded to the stabbing in progress recounted what they saw.
Officers Asad Nawaz and Wesley Vitale, working the midnight shift, responded to a stabbing in the 900 block of N. Henry Street in the early morning. Nawaz said when he arrived, there were multiple people standing around outside the building and another officer holding down a bleeding person. The officer told Nawaz the suspect was still inside and there could be another victim. As he turned to the house, Nawaz told the court that there were multiple people inside the house and women screaming "he's killing her."
Nawaz and Vitale went inside the apartment and worked their way upstairs, to an empty hallway with a locked door at the far end. Vitale, trained in hostage negotiation, said he tried to convince the suspect inside to open the door. According to Vitale, Williams would only answer, "You guys can't help me."
Vitale tried to convince Williams to open the door to at least allow paramedics to help the victim inside, to which Williams allegedly answered "It's too late to help her, she's already dead."
Vitale and Williams both said the answer was followed by a series of thumping noises, which they both described distinctly as the sound of someone being stabbed. A ram was brought up and the door was burst open after two hits. Barksdale's body had been pressed up against the door. Vitale and Williams said the body was non-responsive and covered with blood and several stab wounds.
"There was blood everywhere" Nawaz said. "It was on her face and all around her."
As they entered the room, Vitale and Nawaz said Williams was standing behind her. Vitale said it wasn't a large room and it was lit only by the light coming in from the hallway and from a window to the street.
"All I remember is seeing him holding a knife to his neck in one hand and a silver lighter in the other," said Nawaz. "He was looking right at us, making suicidal statements, saying 'you're going to have to kill me.' [We] tried to calm him down but he wasn't listening. He started to cut his own throat at the side of his neck."
Williams, sitting in the courtroom, still bore a scar running down the side of his neck.
Vitale said he deployed his taser at Williams, who was now swinging his arm. At that point, Vitale said Williams began to approach him with the knife, and Vitale start reaching for his pistol to shoot Williams. But Nawaz had readied his taser and hit Williams as well. Nawaz and Vitale said Williams began to stab himself in the stomach.
"He basically began to gut himself," said Vitale. "He was stabbing himself in the stomach about 10 times."
After several electrical shocks from Nawaz, Williams allegedly threw down his knife and laid down on the ground. Paramedics arrived to attend to Barksdale and Williams. Vitale said he travelled with Williams to the hospital, a trip during which he alleges that Williams asked him repeatedly to delete text messages from Williams' cellphone.
Despite critical self-inflicted injuries, Williams survived and is charged with first-degree murder.