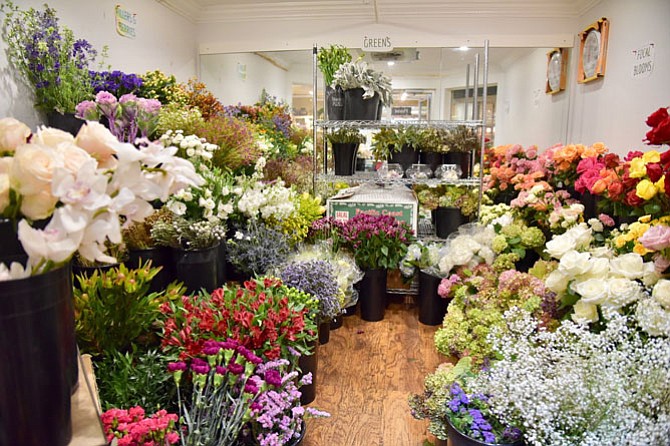 Now that Thanksgiving, Black Friday and Cyber Monday are over — it's time for the hands-on "real" holiday shopping to begin. If you are looking for a retail experience where you can examine, touch, feel and try-on, look no further than Potomac Village. These stores offer free parking, a lack of holiday crowds and full attention from personable salespeople who want to get to know you. You can drive five or 10 minutes and be able to check off everyone on your list.
The Market at River Falls, owned by Potomac residents Yasmin Abadian and James McWhorter, offers a variety of gifts for all those "impossible-to-buy-for" people on your list. The nicest touch is that many of the Market offerings come from local purveyors. Give a bottle of "Silver Spring" wine, a Rockland Farm wine from Poolesville or an Urban Winery bottle from Dorchester County, Md. Please your foodie friends or relatives with locally cured salamis, cookies by Whisked from DC, beer from DC Brau, honey from Potomac or Michele's Granola from Frederick.
For a hostess gift, take Fisher Popcorn in a decorated tin which features scenes from the State of Maryland —the Bay Bridge, Maryland State House, Preakness, sailboats on the Chesapeake, a Baltimore Oriole, Black-Eyed Susan and the Maryland Flag. Another exceptional gift is a jar of Annie's Sugar Scrub in lavender or citrus.
The best gift of all is one that your friends or family will never forget — a gift certificate for a bountiful Crab Cake dinner for four from the Market at River Falls. Think of how they will appreciate this gift as they dine on crab cakes, soup, salads and sides, a French baguette and pie — all for $100.
Your next stop is to find gifts for the people in your life who love water sports such as canoeing, kayaking and stand-up paddleboarding — or would love to learn. Just amble across Falls Road to Potomac Paddlesports. This store will provide you with gear and stocking stuffers for those people who love paddling the C&O Canal, Potomac River, Chesapeake Bay and beyond.
Manager James Buck will be happy to guide you if you are unsure about what to purchase. Some of the gifts you might consider purchasing for your water-lovers are kayaks or paddle boards, wetsuits, helmets, layering pieces, footwear, safety equipment and paddling t-shirts. Stocking stuffers are also available – items such as nose clips, eyeglass holders, gloves, baseball hats and more.
If you want to give a gift that "keeps on giving," buy a package of classes for Whitewater Kayaking, Stand-Up Paddleboarding, Sea Kayak Touring, Flatwater Kayaking, or Whitewater Rafting. Potomac Paddlesports also offers teen camps — an activity that will change your teen's perspective and life forever. They also feature guided whitewater trips — a great way to commune with nature — or how about some winter indoor kayak rolling sessions? Potomac Paddlesports' specialty is professional instruction and their coached sessions are designed to "help you develop your skills quickly so you can paddle with finesse and confidence." All equipment is provided.
Potomac Paddlesports also offers moonlight paddles, fall foliage tours, birthday parties, corporate outings and you can even plan your wedding here; one unique wedding venue is to get married on a river island.
The next stop for your outdoor enthusiast should be Big Wheel Bikes where manager David Zovko will help you and your family select the best bikes for the money. Every type of bike is available in this store — racing, electric, high performance, children's bikes for all age ranges and mountain bikes. This is the place to get the best fit for a comfortable experience and to learn about the sport of biking, bike trails, maintenance and necessary equipment. Bikes run from $369 and up.
Besides finding the perfect bike, the perks of purchasing your bike at Big Wheel Bikes are free assembly, free service for a year — and you can try it before you buy it. Zovko will also make certain that the manufacturer's warranty is honored too.
Gifts at Big Wheel Bikes for your biker include repair kits, nutrition bars, bike lights and safety equipment, gloves, water bottles, bells, comfy seats and bike clothing. Zovko will give you expert advice since he is an avid biker — and, if they don't carry whatever you would like to buy, he will order it for pick up in a day or two.
Potomac Petals and Plants at 9545 River Road is a garden center transformed into a one-of-a-kind gift store, featuring rooms filled to the brim with an array of Christmas decorations, Chanukah décor, jewelry, scarves, handsome wreaths — and even live parakeets and canaries for the bird-lover in your life.
Winter Wonderland is everywhere you look. Displays of Christmas elves, ornaments, surfer, hunter, fisherman and Harley Santas, specialized nutcrackers, gifts for your favorite puppy or kitten, a variety of holiday napkins, table décor and decorations — all are displayed on holiday tables and trees. As you wander through the store, you will also find a table of Chanukah gifts which includes Jonathan Adler Menorahs, candles, servers, glasses, dreidels – and even a lighted Chanukah bear. The blue and white items provide gifts and decorations for your home as you enter the season of light.
Kavelle Bajaj purchased the store in 2015 — and has added a wealth of unique gift items. She and Linda Ridenour enjoy providing décor items and advice for choosing exactly the right gift. Anklets, hairclips, toe rings, bracelets, earrings and necklaces are featured in their jewelry collection. Other gift items include Nest candles and fragrances, limited edition prints, tea towels, milled soaps in the shape of a Scottie, Pug or Westie, and a collection of toys and books for children.
"I want people to get excited when they come here to shop," said Bajaj. "Tour agencies have added us to their 'must-visit places in D.C.' because we have such an extensive collection of unusual gifts."
Fresh flower arrangements are a thoughtful gift and Potomac Petals and Plants is the place to order these and to purchase fresh or silk flower arrangements for your home or holiday table. There are garlands, centerpieces and a collection of live orchids in the area. The wreaths and floral arrangements created by Linda Hobbins make gifts for anyone who loves flowers, holiday décor and nature.
"I get great joy from crafting holiday wreaths and arrangements with beautiful seasonal flowers and decorations as well as with dried flowers," said Hobbins.