Document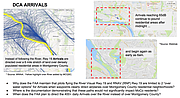 Document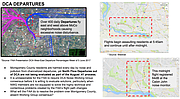 Local residents tired of the noise of airplanes as they take off and land at Reagan National Airport have several voices on their side including Gov. Larry Hogan.
Senators Chris Van Hollen and Ben Cardin, U.S. Representatives John Delaney and Jamie Raskin, Montgomery County Executive Isiah Leggett and Montgomery County Council President Roger Berliner joined together in a May 5 letter to Michael Huerta, Federal Aviation Administration's Administrator requesting an in-depth review of noise levels before and after implementation of the "Optimization of Airspace and Procedures in the DC Metroplex," which includes Next Gen Technology.
The Federal Aviation Administration NextGen program, according to the FAA website, "… is a comprehensive suite of state-of-the-art technologies and procedure that, in short, enable aircraft to move more directly from Point A to Point B."
Hogan also wrote to Huerta in May about noise from landings and takeoffs from Baltimore Washington International and Reagan National airports and, believing he is being ignored because Huerta did not respond, on Aug. 1 wrote Transportation Secretary Elaine Chao again expressing his concern about the effects of aircraft noise on Maryland residents
"The Administrator (Huerta) does not seem to understand that chronic aircraft noise exposes otherwise healthy people to stress and potential medical conditions, as well as directly negatively impacting property values for Maryland homeowners," Hogan wrote.
He asks for a review and "path forward to address our citizens' concerns," and asks Chao to have [Huerta] respond to his May 11 letter.
Having the governor involved is big, said Janelle Wright, co-chair of policy for Montgomery County Quiet Skies Coalition.
"We sincerely appreciate Governor Hogan's support and think that his advocacy matters," Wright wrote in an email. "We hope that it will lead to a reduction of the noise and pollution being inflicted on residents in Potomac and Bethesda."
Wright said she moved into her Potomac home in 2014 and never imagined airplane noise as a problem.
"I live in Potomac, 15 miles from National Airport and not close to the river," she said. "Part of what you buy when you buy a house is quiet, we've been robbed of that."
The Quiet Skies Coalition includes members from 20 neighborhoods which is about 7,500 homes and includes about 20,000 people, Wright said. The group works with elected officials to get the FAA to change the current flight path.
Wright said the hope is that the FAA will disperse the planes over more than one flight path, thereby dispersing the noise; have the flight path follow the river and/or return to the historical (pre-2015) flight paths, returning many Montgomery County residents to the quiet they once enjoyed.
Huerta did respond to the letter from Van Hollen, Cardin, Delaney and Raskin and Montgomery County officials but his response "does not include the requested environmental review … or any actual noise data outside of 'predictive' computer modeling," according to a letter to constituents from Brent Girard from the Constituent Services and Community Outreach office of Van Hollen.
In Girard's letter he states that Van Hollen "has been working on legislative strategies to hold the FAA accountable for the impacts that the new flight paths have caused Maryland communities in Montgomery County and around BWI Airport."
Recently Van Hollen added two amendments to the Fiscal Year 2018 Transportation, Housing, and Urban Development Senate Appropriations Bill S.1655, Girard wrote.
"The first urges the FAA to improve the development of flight paths to reduce impacts of noise, including in communities near National Airport and BWI. The second amendment directs the FAA to improve research on cumulative noise impacts from increased frequency of flights," he wrote.
Van Hollen urges residents to file formal noise complaints on the Metropolitan Washington Airports Authority website www.flyreagan.com/dca/reagan-national-submit-noise-complaint.
Complaints can also be sent to Ken Hartman director of the Bethesda-Chevy Chase Regional Center. Hartman is a member of the DCA Noise Working Group. He can be reached at ken.hartman@montgomerycountymd.gov.
Wright said complaints from the community have increased 3,900 percent since the flight changes.
"In 2015, there were 38 complaints, in 2016, 807 and in 2017 the data through June showed 7,468 complaints," she said.
She is hopeful that the FAA is listening.