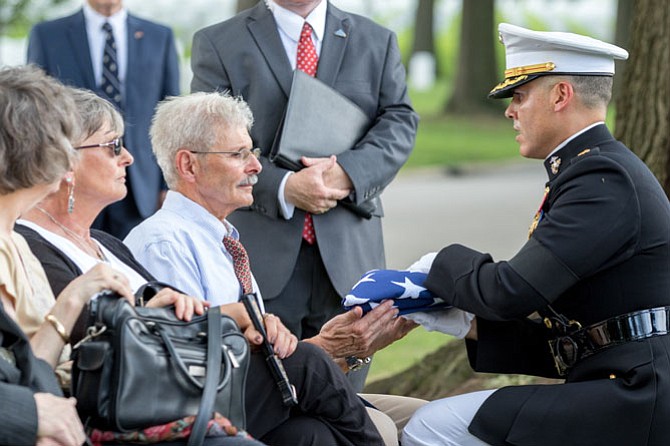 Alexandria — I never had the chance to meet Norman Hatch. Yet in paying my respects to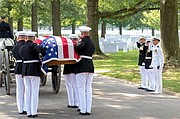 this Marine Corps veteran I felt as if I had been at the funeral of a dear friend. Major Hatch's impact on the historical record of World War II reaches far beyond those with whom he interacted directly.
I first learned of Norm's service history in middle school and as my fascination with the U.S. Marines in the Pacific Theater grew, so too, did my amazement at his extremely unique role. Having practically been born with a camera in hand, I still cannot fully grasp the presence of mind it required to chronicle the horror and carnage that would define infamous island fighting on Tarawa and Iwo Jima.
Though intensity was equal for both these engagements, the contrast is in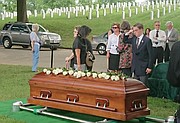 their duration. Tarawa lasted roughly 76 hours in late November of 1943, while Iwo continued for 36 days through February and March 1945. Footage Norm captured while with the 2nd Marine Division would later be compiled into a documentary. "With the Marines at Tarawa" went on to win an Academy Award and presentation of the award took place while Iwo was still raging. Norm was now with the 5th Marine Division. On the fifth day of fighting [Feb. 23rd], he was largely responsible for spreading the word to other cameramen that the American flag was soon to be raised atop Mount Suribachi. This action directly resulted in AP photographer Joe Rosenthal's immortal image of the event. Surviving either of these brutal fights was a true miracle for all involved, be they riflemen, machine-gunners, demolition teams, or a photographer hitting the sand with a camera and film rolls.
His documentation continues to remain invaluable to the current generation of researchers, keeping the flame of knowledge lit now 72 years since bullets stopped flying on Iwo. Indeed, this is precisely how his impact on me remains strong though I never even got to shake his hand and say "Thank you." It was Aug. 17 that those who knew his kindness gathered at Arlington National Cemetery to do so, to say a final thank you and farewell. After the funeral reception, I came upon local musician Jamey Turner and his Glass Harp. I asked him "Do you know the hymn of the United States Marine Corps?" He smiled enthusiastically and played a verse as a tribute to Norm in front of the Torpedo Factory Art Center, a massive reminder of Alexandria's contribution to the war effort.
To me, gazing on an image conveys the hell of war even more starkly than reading the text of a narrative. Vivid as words may be, they require a mental image to be formed. A photograph is a raw, unchanging moment in time. It captures a scene that so many others saw. How many thousands of others saw the black sand of Iwo run red? How many Marines walked past their now dead brothers-in-arms recorded by Norm at Tarawa? How many sons, fathers, or brothers ended up appearing in his images? Would that be the last photo of them alive? Hundreds of connections can be formed through this extensive body of work. Every time I review an image in my research, I will pause upon seeing the credit marked "Norman Hatch, S/Sgt., U. S. M. C.," grateful and humbled for his enormous contribution. Semper Fidelis sir, and thank you for a job very well done.
Dean Laubach is a 21-year-old college student recently named as web developer for the 5th Marine Division Association. He traveled five hours from his home in Pennsylvania to attend the funeral of Alexandria resident and WWII combat photographer Norman Hatch.