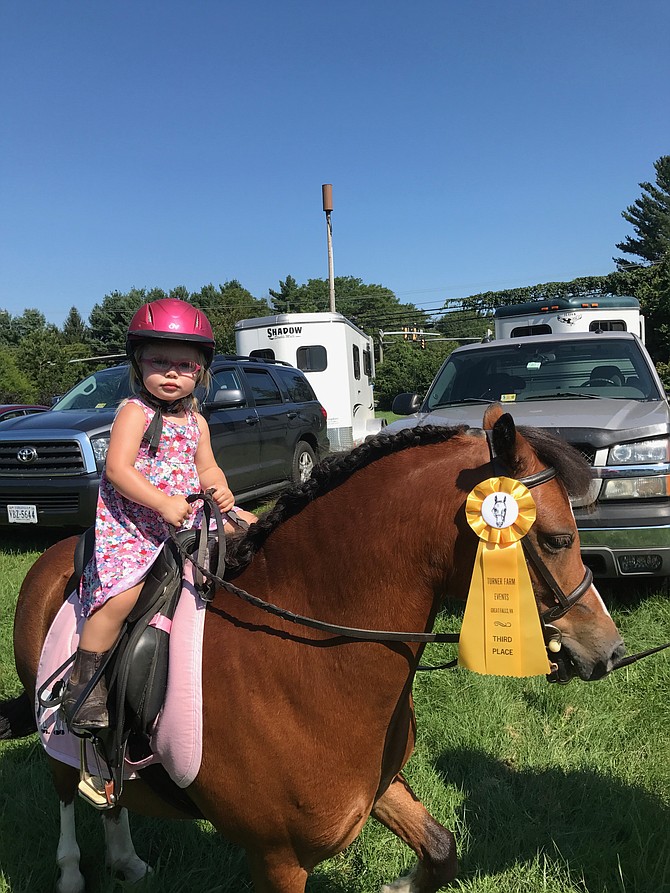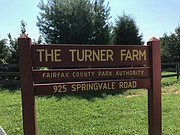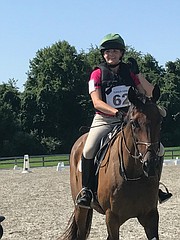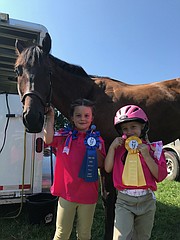 "This is my first event in five years...I came back to the sport because I missed it too much. There's nothing like a relationship [with an animal] as part of the sport. No other sport is like that." — Martha Figueroa of Reston
Turner Farm Events is a nonprofit organization created to raise funds to support maintenance and improvements at The Turner Farm, a Fairfax County Park, located at 625 Springvale Road in Great Falls. On Sunday, Aug. 20, 8 a.m.-2 p.m., the organization presented their Summer Horse Trials, Combined Test, and Dressage Show, in support of their mission.
Horse trials or "eventing" is where a rider and horse combination compete against others, in the same divisions, across three disciplines – dressage, show jumping, and cross-country. For very young or inexperienced riders, there is a leadline division and the cross-country part of the competition may be omitted.
According to Kirstin Parisot, one of the two show organizers, the purpose of Sunday's show not only supported the nonprofit's fundraising mission but offered younger junior riders an inviting introduction to horse trials. Referencing what could be the most challenging aspect of a horse trial, the cross-country course, Parisot spoke about the straightforward jumps on The Turner Farm's short course, "It's not something too complex. It's really great for first-time eventers."
The youngest equestrians were first to compete. Together they entered the ring shortly after 8 a.m., each accompanied by a handler who controlled the animal with leadline-in-hand while the young competitor held the reins. The ponies (and a few horses) walked and trotted with their riders, both judged in dressage and show jumping, or rather "show stepping" as poles were set on the ground. Judges award ribbons to the riders and ponies based on their equitation. Later in the morning, the children could be seen holding their ribbons or attaching them to their pony's halter.
Next up, were the more experienced junior riders. They entered the fenced-in ring by division – elementary through novice. They competed in dressage and show jumping, then negotiated the cross-country course of small jumps.
Martha Figueroa, of Reston, appeared to keep her horse on the bit through the dressage movements and handled the small stadium jumps with ease. Before heading down to the cross-country course, Figueroa said, "This is my first event in five years...I came back to the sport because I missed it too much. There's nothing like a relationship [with an animal] as part of the sport. No other sport is like that."
Turner Farm Events thanked all their competitors via Facebook for coming out and supporting the fundraising effort. The organization posted on their Facebook page, "We couldn't have done it without our fabulous volunteers." For more information about Turner Farm Events, visit www.facebook.com/turnerfarmevents/
Fairfax County Park Authority operates The Turner Farm. The park features a unique mix of recreational and educational facilities. For recreation, there are tot lots, picnic areas, nature observation, and horseback riding and jumping facilities. The area encompasses 40 acres of fenced open fields with a novice level cross-country course, round pen, and outdoor arena surfaced in the all-weather footing. Stadium jumps and dressage markers are in the ring. All the equipment and grounds require ongoing maintenance and improvements, hence Turner Farm Events, the non profit organization.
For educational purposes, there is Fairfax County Park Authority's newly dedicated Roll-Top Observatory, celestial telescope, and classrooms. The observatory is supported in part by the nonprofit organization, The Analemma Society that offers astronomy courses and on Friday nights, public stargazing at the moon, stars, and deep sky objects.