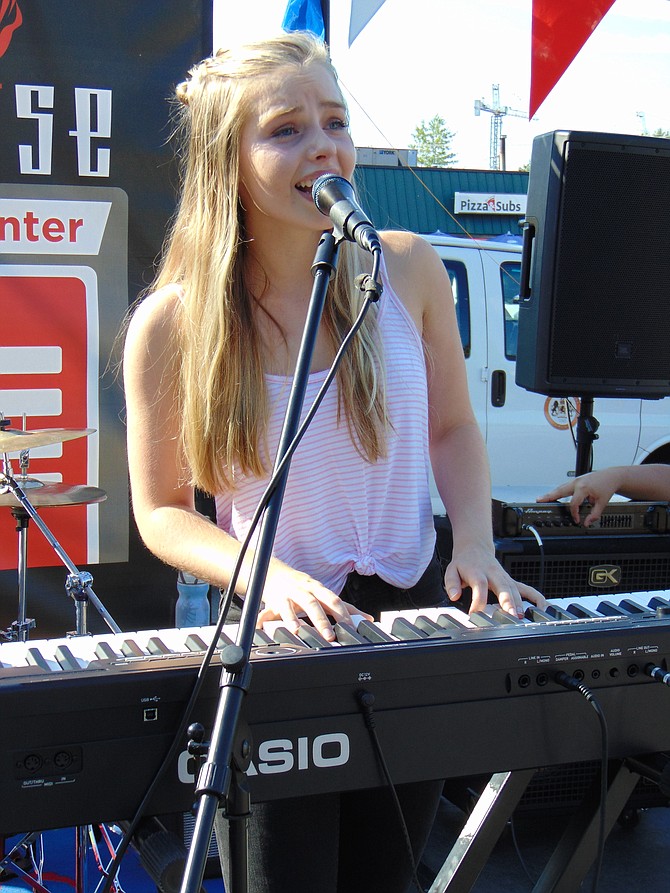 The Old Firehouse Teen Center in McLean held its 27th annual Block Party on Saturday, Aug. 19, 2017, where about 500 people were expected. The event included a Bands for Bikes Concert with four bands and a bike collection for Wheels to Africa.
For the fourth year, the bike collection was organized by Jack Lichtenstein, 17, of McLean and Winston Duncan, 22, of Arlington. They collected about 100 bikes from the community, which will be shipped to villages in Tanzania or Ghana. Duncan has been running the program for 13 years, and has collected a total of 7,000 bikes for Africa.
"Today is the 27th anniversary celebration for the Old Firehouse. ...We're really just out here to celebrate McLean, and celebrate the Old Firehouse and what it's meant to the community for the past 27 years and just make sure everybody has a good time," said Mike Fisher, General Manager of the Old Firehouse.
Dixie Duncan, Executive Director of Wheels to Africa, who recently delivered 440 bikes to Tanzania, said: "When you go to a third-world country like Tanzania, a bike there is a car. So when I see all these bikes come in here, I'm so thankful because I know that not only one life will be changed by the bicycles; they'll be 10 lives changed by one bicycle, because the bicycles are used by families. So therefore, you get multiple return for one simple task."
Dixie Duncan's son Winston, who is a senior at Bard College, said: "Every year the support is just overwhelming. We actually got a lot of bikes today and we're excited to continue our mission on how a bike can change a life. So we're out here again collecting bicycles, spreading the word and trying to get the youth involved because one of our goals is to bridge the gap between the kids here and the kids in Africa."
Jack Lichtenstein, a rising senior at Langley High School who booked the bands, added, "I just want to use my music to have a positive impact on the Wheels to Africa. I'm just trying to spread awareness about the Wheels to Africa."
The four bands that performed at the Bands for Bikes Concert included: The Outliers, singer Claudia Swope, Dropoff, and The Unexpected. The Block Party also included a rock-climbing wall, a moon bounce, a Shark Attack balancing game, quarterback ball toss, spray-on tattoos, Coderkids, Mathnasium, and Johnny Ray's food truck. The event was sponsored by Burke and Herbert Bank with partners Bach to Rock, Wheels to Africa, and Bands for Bikes.