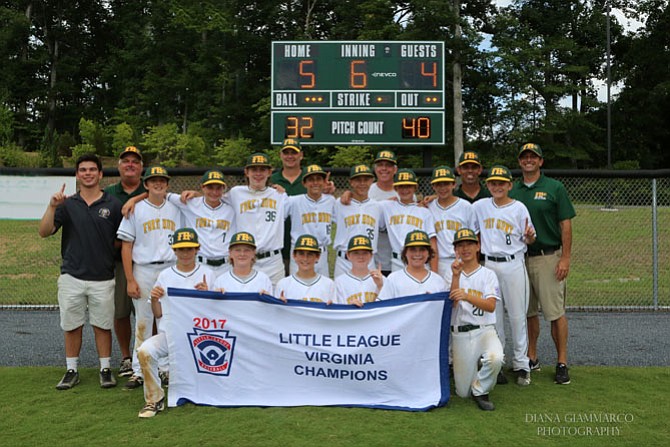 The Fort Hunt Little League (FHLL) Majors All-Star team won the 2017 Virginia State Championship on Tuesday, July 26 beating Atlee Little League 5-4 at the Fuller Heights baseball complex in Triangle, Va.
This is the first time Fort Hunt Baseball, in its nearly 60-year history, has won the Majors Virginia State Championship. FHLL was 6-0 at the state tournament outscoring their opponents 94-12. Including the District 9 tournament, the team has gone 12-0 since starting All-Star play earlier this month.
FHLL will next play at the Southeast Regional Little League Championship Tournament in Warner Robins, Ga. starting on Aug. 4 in its bid to earn a spot in the Little League World Series in Williamsport, Pa. in mid-August.
"This exceptional group of players earned this opportunity through hard work and by never giving up," said Manager Chuck Gupton. "Playing at the Little League Southeast Regional Championship is a once in a life-time opportunity for these players and so exciting for our families and fans. We look forward to representing our Fort Hunt community and Virginia at the next level."