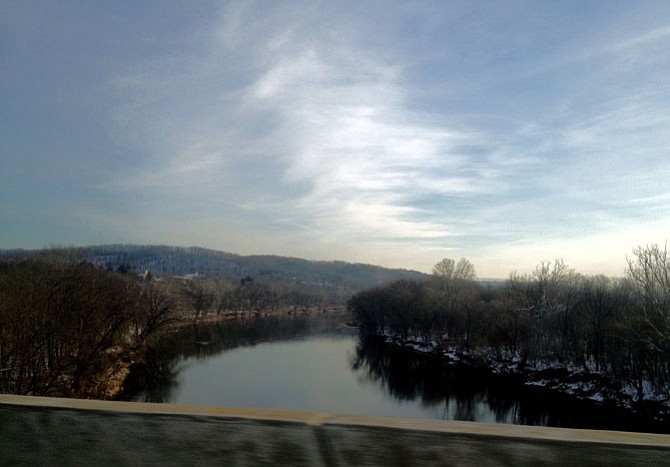 The possibility of an additional crossing over the Potomac River north of the American Legion Bridge has advanced to further consideration after the National Capital Region Transportation Planning Board (TPB), which is part of the Metropolitan Washington Council of Governments, voted to further study the project on July 19.
According to Lyn Erickson, plan development and coordination program director for the Metropolitan Washington Council of Governments, a TPB member had requested through a resolution that a Long-Range Plan Task Force be created to explore transportation issues affecting the Washington D.C. metropolitan region.
"The Task Force was interested in getting some quick analysis to try to further some conversation to see if they could come up with some ideas," Erickson said. "They brainstormed 80 ideas and narrowed it down to 10, and one of them was the Potomac crossing."
Erickson added, however, that it is premature to assess whether the proposed crossing will adequately address traffic issues the region is currently facing. The crossing has been met with opposition from the Montgomery County Council, who passed a resolution unanimously against it on July 18, according to Council Vice President Hans Riemer. Council President Roger Berliner, who represents the district that includes Potomac, added that the crossing would not help in solving the traffic problems Montgomery County is currently facing because of the lack of county residents who work closer to Loudoun County.
"This proposal is antithetical to everything that I have fought for during my entire time on the County Council, which is to have smart growth not sprawl, to preserve our Agricultural Reserve, not bisect it, [and] to reduce greenhouse gas emissions, not add to it," Berliner said. "This is not even a regional project. A majority of Maryland voted against it, [and] a majority of the District of Columbia voted against it."
Caroline Taylor, executive director of the Montgomery Countryside Alliance, also noted the importance of the Maryland Agricultural Reserve in explaining why she and her organization oppose the crossing. Taylor believes Virginia wants to run the crossing through the Reserve.
"One only need look at a map to see point A in Virginia and point B in Montgomery County to understand where it would go through," Taylor said. "You could slide it a little bit one way or the other but it would go through federal parkland … state parkland, county parkland, the Ag Reserve and the existing community."
David Birtwistle, CEO of the Northern Virginia Transportation (NVT) Alliance, a group which supports the crossing, also noted the problems caused by regional traffic congestion. He added that this is resulting in lost time and money for people and businesses.
"We try to look at the holistic plan and say, 'What are the projects that are going to make the biggest difference?'" Birtwistle said. "And, 'What is it we need to do in order to make sure that we build a future that's going to be an economically viable one?'"
NVT Alliance believes the crossing should be the region's highest transportation priority, Birtwistle said. He added that this is based off of what NVT Alliance determined the region needed most.
"Several years ago we participated in an interview survey with the transportation professionals from throughout the region and they saw the river crossing as the biggest game changer … for the region," Birtwistle said. "So we don't necessarily set our priorities [internally]. We look at and go out and talk to professionals and to the civic organizations and folks like that to determine what they see as the greatest needs."
Berliner instead feels that making improvements to Metro, the American Legion Bridge, and expand 270 are greater transportation needs. He noted the importance of focusing on improving the means of transit that are already in place.
"270 is broken. The American Legion Bridge is broken," Berliner said. "It's a national embarrassment."
Taylor added her concern that the crossing's proponents would benefit monetarily from it being built. She said this includes development corporations.
"They have land interests in Prince William [County] and other areas in the more rural areas of Virginia," she said. "And indeed are developers on the Maryland side."
Birtwistle, however, believes the crossing would mainly help 100,000 people from Maryland and Virginia among other places who have expressed interest in the crossing and said it would reduce their travel time in multiple studies. He added that this would in turn help tens of thousands whose travel time would be decreased by more cars abandoning their old route for a new one involving the crossing. Northern Virginia Transportation Authority, who supports the crossing according to Taylor, declined to respond to Taylor's concerns regarding monetary interests.
Birtwistle also mentioned the tendency of businesses locating outside of Montgomery County, suggesting that those involved in international business have a hard time traveling to and from Washington Dulles International Airport. Montgomery County Executive Ike Leggett declined to respond to Birtwistle's claim. Montgomery County Councilmember Marc Elrich on the other hand mentioned Maryland's already benefitting from the Intercounty Connector's creating a transitway between Montgomery County and BWI Marshall Airport.
"One of the results of the state's investment in BWI is BWI has actually been pretty healthy," Elrich said. "Diverging investment and building a second bridge is going to pull people out of BWI. That's not good for the Maryland economy."
From here, TPB staff and consultants will present their initial analysis to the Task Force in October and November, and the Task Force will consider the results and other factors in suggesting how TPB ought to move forward in finalizing their decision, Erickson said. In December, the Task Force will present that information to TPB who will then determine whether they endorse the idea in its long-range transportation plan, she added. An endorsement, however, does not necessarily mean the crossing is more likely to be built, according to Erickson.
"When they [TPB] decide to act in December … if they choose to endorse the initiative, it could be included in our aspirational element of our upcoming update to our long-range plan, which is called Visualize 2045," she said. "The TPB could also encourage member jurisdictions to study the initiatives and champion them for adoption at the local level. And regardless, for any of these to move forward, all regular planning and implementation regulations and requirements still apply to these projects."