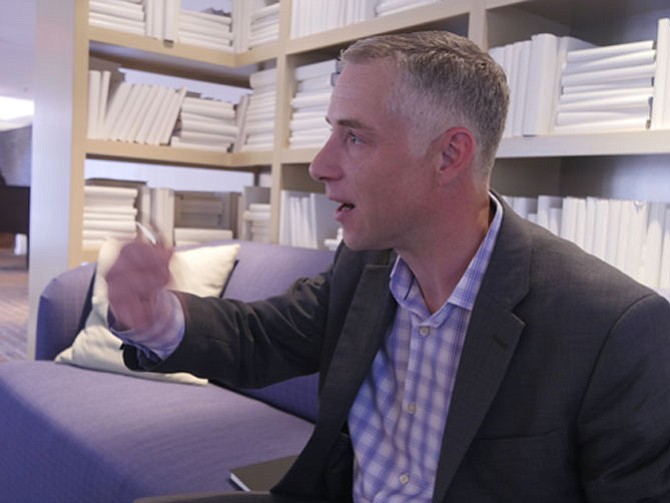 Alexandria — "Make sure we have extra towels. We have a high school group coming; we already have a lot of special requests." Stephane Vogel is holding his daily staff meeting with his managers at Kimpton Lorien Hotel and Spa on King Street. "There will be lots of luggage. Be sure we have extra carts — are we ready? Make a big effort to be sure all rooms are assigned."
"I double checked."
He says, "We have a university group who checked out, a baby shower and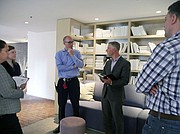 another social event. We're going to be super busy." He reminds the staff, "We want to be the king of King Street. We're not a cookie cutter operation."
"Yes," one of them replies.
"But this weekend with the number of interactions, it could make us or break us so I'd like you to get these points as you work with your staff." He explains to them that they have to be very sensitive to the guests because there are a lot of returning high school guests. "We have new furniture and they are used to having a lot of gatherings so you need to explain the them that the arrangement is different. Any concerns as we move forward?"
He asks Shane Conlan, executive housekeeper, to stay behind. They discuss the upcoming hotel renovation as Vogel draws a diagram in his notebook of a bedroom set with a headboard that may need to change. This is the first stab at design. "We are in an important phase now and we have to do it right. If we get behind, it all stacks up at each subsequent step." He says Conlan spends the most time in the guest rooms so his input is important. "This upcoming renovation is adding to everyone's day."
Vogel says to be in the hotel business means always having to look ahead. "If you work on a day-to-day basis, you fail." Vogel says every day he looks 40-50 days ahead at revenues. "We want to have a clear reflection of our product and what the competition is charging." Every week he looks ahead for the entire year.
Vogel comes to work early to review financial information as well as communications and guest interactions, to recall anything that isn't up to standard or requires extra attention. For instance, "if there is a guest report that room service has delivered cold soup, I trace back to why it was cold to be sure it doesn't happen again." He explains if you buy a pair of shoes and they don't fit you can take them back. "But we sell memories and you can't change a memory."
Pretty soon Vogel will start walking around the lobby, the corridors, the meeting rooms. He will interact with the housekeepers, touch base with the department heads, look for any changes. "I'm in my office only two-three hours out of 10 every day."
Vogel attended Les Roches International School of Hotel Management in Valais County in the Alps where he got his 4-year degree. "It was very hands on." The first year was service and the second year was kitchen. It was everything from small à la carte restaurant to fast food. As part of his final exam he had to run an á la carte restaurant. I had to make a rack of lamb for four with braised cabbage. "I still remember it." He says they emphasized constant attention to detail. He has been at the King Street location since October 2016 but with Kimpton Lorien Hotels for 10 years.
Vogel waves his arms as he proclaims, "You can tell I am passionate about my work." He says his guests love an environment of care and comfort. "Luxury without pretension comes from the heart." He adds that the hotel satisfaction rate went up from 92 percent to 94.58 percent last year. "But I tell my teams would you like to fly on an airplane that only lands 94 percent of the time?"